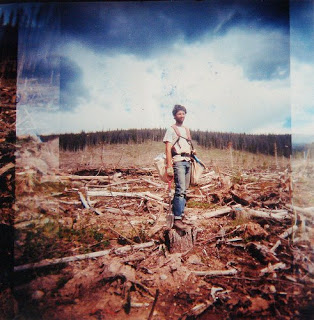 photo by
margebarge
Finance Your Adventures: Planting Trees in Canada
My friend Tyler Eddy is awesome for many reasons. A list, you say? 1) He seems to have two first names 2) He is earning his PhD in something awesome and ocean-related (I think he's a dolphin whisperer) 3) He has traveled the world, financed by his summers spent planting trees in Canada. Amazing right?! Tyler was gracious enough to answer a few questions o'mine about how to get into the tree planing game.
How did you hear about tree planting as a way to finance your adventures?
My first year of uni. 18 years old. The girl from the room above me and i became close (she would beckon me with kicks to her floor, my ceiling) and told me about this job tree planting where you could make good money while working outside and sleeping in a tent. she wanted me to spend the summer in her tent with her while doing it. i had other plans about our immediate future so joined another company and have known no other serious income (except for the employment insurance benefits that come with the terminus of a season) ever since.
How did you find a job planting trees in Canada? How did you feel about said your planting job?
Word of mouth. I had some friends that were working for a company and gave them a call. after a quick coffee meeting on campus with one of their representatives i was in. except they wanted a $100 deposit to make sure i was coming. I wasn't sure what to expect but knew i wanted to get out of my parent's house for the summer after newly tasted freedom at university. hated it. then loved it. then hated it again. then loved it. then hated it and sat on a stump crying and of course my foreman came to check on my trees at that moment. but by the end of it had made $200 in a day and was hooked. went home for a month in july and came back in august to plant some more.
How did you find housing for your tree planting job? How did you feel about said housing?
I had the mountain equipment co-op catalog (Canadian purveyor of all things outdoors) and ordered the tarn 3 tent and -5 sleeping bag (synthetic fill, much too cold, i froze during those early may nights dipping well below the freezing point). I was happy to be living outside and perched my tent on the edge of a small cliff overlooking the lake. It felt like a sanctuary from the long horrific days of my rookie season.
How much money did you make planting trees in Canada?
The first season I was a bit slow to progress (I was a late bloomer) but by the end of it I got better and made $200 in a day, which is a good goal for a rookie season. By season 9 I averaged $500 US/day. If I don't make $400/day these days, I'm pissed.
What kind of people did you meet while planting trees in Canada?
all sorts. ski bums. college students. travelers. drop-outs. surf bums. musicians. old crusty lifers who never smile, Africans with smooth french, Quebecois with indiscernible french, girls that are tougher then most men i know.
What was the most challenging thing about your Canadian tree-planting job?
bugs. planting in the rain. bugs. planting in the snow. bugs. planting in the hail. bugs. waking up at 6am when it's 10 below freezing. bugs. tendinitis. bugs. being told you have to replant. bugs. just planting another tree and not stopping. having every square millimeter of you chewed by bugs as well as the corner of your eyes and trying to hide yourself on your trip to town.
What was the most rewarding thing about planting trees in Canada?
meeting the best friends of my life. sharing the highest and lowest point of my life with them. traveling around every nook and cranny of Canada. planting up a mountain, stopping at the top to turn around, admire the view with eyes squinting in early light and take a deep breath. Hitching from Calgary to Vancouver with my best friend to see the west coast for the first time after reading 'on the road' by Kerouac while in a helicopter-access isolation camp in the Yukon where the sun never sets for a month. receiving a paycheck for five figures, excluding cents. getting dropped off in the morning, bagging up trees for the first run, smoking a doobie while looking at the land, choosing the soundtrack on the i pod and knowing that if you work hard and plant all 4000 trees as you plan you will make $600 that day. a warm beer after a hard day of work. having a five-star restaurant cook prepare the most amazing food for you everyday. night-off campfires with guitars and music blasting from trucks and people shotgunning beers and letting loose after working hard. being physically challenged everyday. living outside for three months straight. meeting the girl of my dreams and knowing she can handle pretty much anything that life throws at her.
Would you ever keep planting trees in Canada long term?
I am halfway through my Ph.d and show no signs of stopping. After finishing my degree I hope to plant in order to buy land in Nova Scotia. When it comes time for a family, I would like to be more permanently based.
What suggestions would you have for anyone else who wants to finance adventures by planting trees?
Make sure you know what you're in for. Buy a good sleeping bag and a good pair of boots (shoddy tents can always be covered with a blue tarp). Find someone good to work for. The best planters will make no money with a poor company as this is piece-rate work.