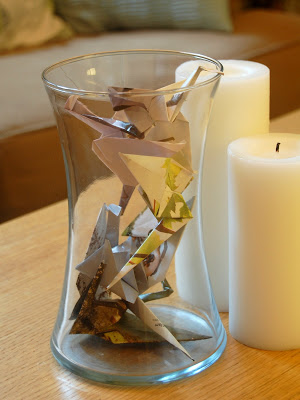 Origami and I go way back. I spent nearly every Sunday of my childhood repurposing the Aitkin United Methodist Church bulletins into cranes, boxes, frogs and functioning Mt. Fujis, much to the annoyance of my parents. But now! I've used those same skills to whip up this cheap and easy center piece.
Ingredients:
Magazines
Scissors
Tall glass cylinder
1) Pull out your giant stack of magazines. Don't lie, I know you have them! Rip out pages that are mostly monochromatic and fit the color scheme you're going for.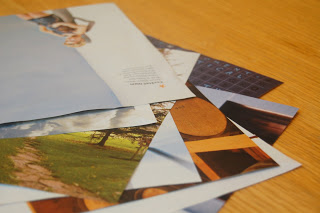 2) Square off your pages by folding them into a triangle and cutting off the extra bits. I like to make different sized squares, so I can have a few wee cranes in the mix. It pays to be anal retentive here, because if your paper isn't a square you'll end up with a wonky duck, not the crane you're after.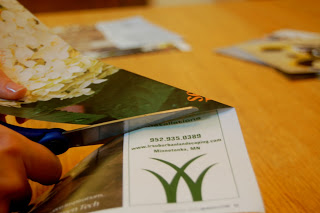 3) Following these instructions, fold your squared magazine pages into sweet little cranes!
4) Stuff your cranes into your glass cylinder and bask in the smugness of creating such cool centerpiece in 10 minutes with your old Cosmos.