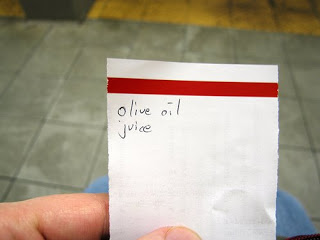 photo by
jschumacher

You know what I love so hard? I mean, in addition to cheese and kittens and globe-trotting.
Lists. Oh friends, I love them. Not only those uber-productive, plan-making, world-domination-plotting lists, but lovely, hilarious, ridiculous ones. Here are some of my favorites:
Favorite songs from 1998
Top five animals
Best words ever
Fictional Characters that would be my best friends
Smells that I love
Scary things I don't ever want to touch
Songs that can be categorized as "Sparkly"
Best songs for air kicks
Food to eat when I'm downtrodden
Movies that I have seen more than ten times
Names that I will never saddle my children with
Things about me that are awesome
What lists do you make?