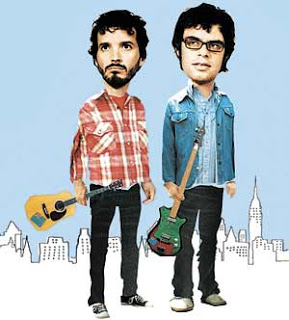 photo
You guys. The first episode of The Flight of The Conchords, Season 2 is
available online
! For free! The whole thing!But only for Yanks. Sorry Kiwis and Aussies. Not that you guys are particularly fussed about Bret and Jemaine anyway.Did I ever tell you that I saw Jemaine in real life? Twice?!
Sighting One: My flatmate and I are in line at the insanely overpriced Reading Cinema in Wellington, New Zealand. I am very busy rummaging in my purse for enough change to buy some popcorn when Jess begins whisper at me without moving her lips, whilst making intense eye contact and occasionally winking.
I obviously interpret this a cue to slyly look over my shoulder. Where I see Jemaine and Loren Horsley. So we do the only natural thing: try very hard to ignore them and then run up the escalator in an attempt to get away from them.
Sighting Two: I am at Reading Cinema, again, walking through the food court. And there, wearing a purple velvet jacket and eating a corn dog, is Jemaine.
Seriously, dude. Stop following me. It's getting awkward.
Have you ever seen anyone famous in real life?