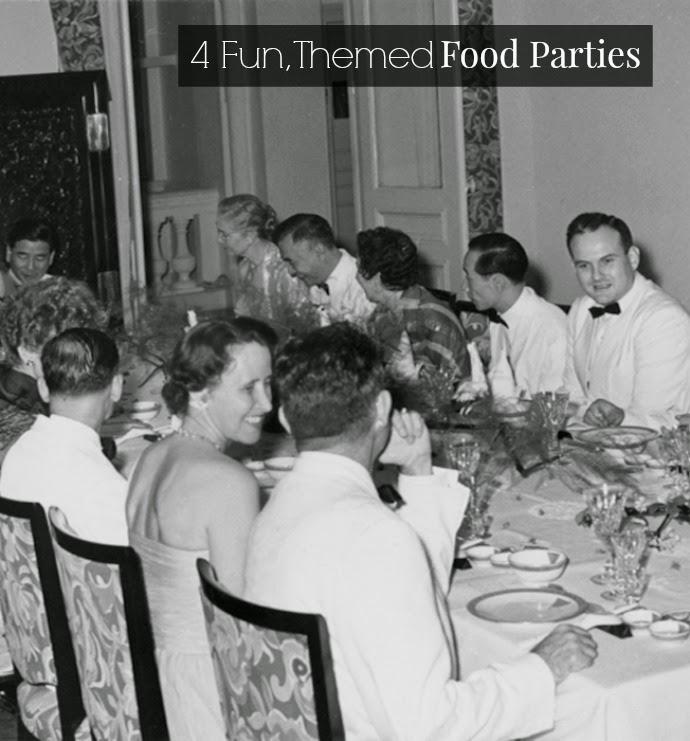 We've established that
we love theme parties
, yes? But what is even better, I think, are parties in the theme of food!
1. Fondue Party
Our parents were on to something with these parties. A group of friends, cuddled around the table dipping delicious nibblets into delicious sauces? Yes please! Even better, you can surely find an entire shelf devoted to fondue pots at your local Salvation Army. There are heaps of different yummy fondues you can make –
blackberry
!
butterscotch
!
chocolate
!
cheese, cheese, cheese
! What you choose to dip is up to you, but traditional choices include angel food cake cubes, fruit, bread and roasted vegetables. Bee Gees soundtrack is optional.
2. Cheese tasting Party
I actually threw one of these in November and, lordy, but it was fun. And delicious. Here's the deal: buy six or seven cheeses, the more obscure the better. Look up descriptions of the cheese online and make a worksheet of sorts listing all the descriptions. (If you're sneaky like me, you'll also include several bogus descriptions of similar cheeses to throw your guests off the scent.) Unwrap the cheeses (so there are no identifying labels) and serve each cheese with some sort of
yummy pairing
. You know, blue cheese with pears, Gouda with almonds, etc. Then your friends taste the cheese and try to match it to the appropriate description. Whoever matches the most cheeses/descriptions wins! Perhaps you could give them a can of squeeze cheese as a prize.
3. Miracle Berry Party
Have you guys heard of
this amazing little fruit
? It's a tiny red berry from Africa that contains a specific and rare molecule that makes sour food taste sweet. What?! You can get the effect from eating just one berry and holding the pulp on your tongue for about a minute. Then you have the next hour or so to tuck into lemon wedges, pickles, vinegar, radishes, brussel sprouts – the more bitter and sour, the better. The berries
are available online
, though they are a bit spendy. Willy Wonka, eat your heart out!
4. 32 Flavors Party
Are you in love with Cold Stone Creamery? The ice cream shop that custom mixes the ice cream flavour of your choice, before your very eyes? Well, friends, there's no reason you can't do this at home – alls you is a chilled
marble cutting board
, several gallons of vanilla ice cream, some formidable forearms and 32 different kinds of mix-ins. Of course you can go the traditional route of Oreo chunks or strawberries or chocolate chips. But how about cinnamon? or pineapple/basil? or earl grey? or ginger? You've got 32 opportunities to go crazy! Have your friends bring mix-ins of their own choosing and vote on the best and weirdest flavours.
What's the best food theme party you've been to?
photo (without text on top) can be found here