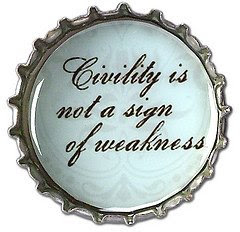 You might not know this about me, but I am huge proponent for both manners and karma – thank you notes, holding doors, helping friends move, the whole nine. Which is why I love
Operation Nice
. The website chronicles helpful, lovely interactions that people have had, suggestions on how to make someone's day, and things that are generally awesome. Nice indeed!
Did you hate dissecting stuff in eighth grade science? The inside of cats not really your thing? Eric Boker decided, instead, to dissect tubes of toothpaste – and the result is oddly artistic.
Mystery is sexy, right? If your not sure exactly how to be mysterious, this poster will point you in the right direction. I particularly like the tip about wearing a skeleton key on a necklace. "When you have an ornate, probably gold, probably vaguely skull shaped dangling around your neck, people will be going insane imagining what it opens!"
What would happen if Jemaine from Flight of the Conchords had a website where he pretended to be a Sci-Fi writer named Ronald Chevalier? Awesomeness would ensue. Obviously.
A lovely blog about random acts of kindness. (Thanks Annie!)
Lovely photos using the moon as a prop.
If you live in Minnesota (or are just passive aggressive) confrontation might be beyond your can. If so, you can use Hello! You there! to get your point across. You write up a letter, include a postal address and a written letter will be sent anonymously. I would say that I don't condone such an epic level of weeniness, but come on! We can all admit it's pretty genius.
Children's sketches of monsters re-created by graphic designers. Slightly unnerving!