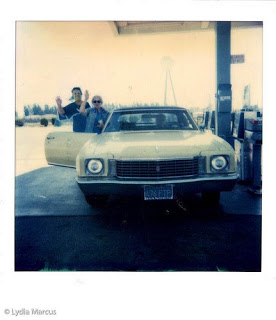 (This is part 2 of Erin's tale of dealing with geriatric travel mates. Usually, she blogs at
The Fierce Beagle
. Also, she can probably
out-dance you
.)
Uncle R: Every time we go on a trip, we stop at Mickey D's 'bout ten for coffee, orange juice and some fries, right, Mom?
Grandma: [fumbling with the digital controls for the air conditioner, which is on full blast] What?
Uncle R: [unfazed] Every time we go on a trip, we stop at Mickey D's 'bout ten for coffee, orange juice and some fries, right, Mom?
Grandma: [louder] WHAT?! [Pushes wrong touch-screen button; snow is now starting to form around the window panes]
Uncle R: [unfazed] Every time we go on a trip, we stop at Mickey D's 'bout ten for coffee, orange juice and some fries, right, Mom?
Grandma: [louder still] WHAT?!? [pushes two or three more buttons; air conditioner shuts off in flourish of industrial-grade noise]
Uncle R: [unfazed] Every time we go on a trip, we stop at Mickey D's 'bout ten for coffee, orange juice and some fries, right, Mom?
Grandma: [with exasperation] What's "Mickey D's?"
I was in no mood to appreciate the absurd humor of this exchange between my uncle and grandmother, and not just because we were deep into a road trip that I was sure would end in mortal catastrophe. You see, we had just spent the night with front-row seats at the second circle of hell.
Aside from hopping in the van and conquering long-distance travel for the fun of it, my apparently younger-than-me-at-heart grandparents also love spontaneity. Though we had embarked on a three-day tour of New Mexico, they hadn't planned so much as what towns we would stop in for the night, nevermind made reservations at a hotel. So after our rather fascinating trip into the Carlsbad Caverns, our spur-of-the-moment plan to find lodging in Alamogordo went to pot upon discovering that every hotel in town was booked solid because of some biker convention. Or, to clarify, I should say every reputable hotel in town was booked solid.
After inspecting and dismissing more than one motel, the grand'rents decided on a rinky-dink motor inn near Holloman Air Force Base that was clean yet kitschy. Like in a movie, I told myself. And for a good two hours, it was like being in a movie: We watched TV on an old 13 incher, and cuddled up in a bed that looked and felt like it could belong in your sweet Aunt Mildred's attic guest room.
Then our neighbors arrived. And suddenly, our wholesome family film turned into a horror movie of the Zodiac variety: No calamity befell us (the protagonists), but the feeling that we were on the cusp of something terrible hovered constantly. Especially after the tone of the terrifying sounds emanating from just inches on the other side of the wall changed suddenly and ominously after we called the front desk to complain. To this day I don't know exactly what was going on in the room next door or the parking lot outside, but I do know that we had stumbled into a favorite locale for some of the guys from the base to party with their hookers. 'Nuff said.
One benefit of traveling with elderly grandparents is that they just don't question your motives when calling their motel room at 6 a.m. and asking if we couldn't leave already.
One disadvantage of traveling with elderly grandparents is they take life at a leisurely pace when you just want to get the hell outta dodge.
Lucky for us lucky lucksters, Denny's was open. So instead of adiosing Alamogordo posthaste, we sat down to a three-course breakfast. My uncle, who eats excruciatingly slowly, ordered the biggest meal of all: a short stack (with whipped cream), eggs and bacon. Four hours later (or so it seemed) we were finally on the road again. For about 15 minutes. Because then, Uncle R's watch went off.
The sun rises and sets according to Uncle R's watch. When the alarm goes off at 5:30 p.m., he makes his way to the table with the conviction of a farmhand who just heard the dinner bell. So when Uncle R is tasked with timing the grandparents' two-hour driving shifts, he takes that job Seriously.
When that wristwatch alarm went off barely a quarter of an hour into our second day on the road, I foolishly dismissed it. When Uncle R dutifully uttered "Mom?" I still didn't clue in. But when my grandmother pulled over to the shoulder to switch seats with my grandpa, comprehension dawned: She had just completed the final 15 minutes of the previous day's two-hour shift.
Truth be told, after that, the last leg of our trip was fairly uneventful: We frolicked across the dunes of White Sands National Monument; we indulged my fantasy of visiting the Very Large Array outside Socorro (where Jodi Foster discovered the extraterrestrial broadcast in Contact).
By the time we were pulling back into Albuquerque, I erroneously believed we were in the clear and started jovially chatting with my grandma while my grandpa eased the ship safely into harbor. Then the van (and my stomach) lurched as we swerved across three lanes to make the exit to home; my grandma forgot to shout her driving instructions from the back row since she wasn't paying attention, and so my grandpa wasn't paying attention either.
So, how exactly does one survive a road trip with elderly grandparents? Put simply: Prayer. Start praying before the trip, if possible, so God knows you're serious. If you're Catholic, I might even suggest having a ritual Mass done on behalf of your upcoming journey. And if you're not much of a religious type, a road trip with your elderly grandparents is definitely occasion to reconsider.