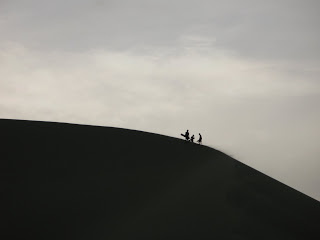 "Say, what´s that a picture of?" is what you´re probably asking yourself right now, eh? Or maybe "Is Sarah still trying to impress us with all that talk of sand boarding?" Or probably "What happened to that guest poster La Bellette Rouge? When´s she coming back?"
Well, I´m going to go ahead and ignore those last two questions and pretend like you´re thinking about the first, mmmmkay? That photo is us, risking our necks to slide down The Biggest Sand Dune Ever.
Dudes. Not one iota of exaggeration: that dune was at least 20 stories tall.
In the event that you were concerned, I did not, in fact, die while sand boarding. Though according to that Nervous Nelly, The Lonely Planet, I could have.
Here is a video
that someone with exponentially better video editing skills than I possess put together that documents the sand boarding experience. (You might want to turn your speakers down or ignore the laid back hippie music. I´m pretty sure a Mountain Dew-esque, mid-90s guitar riff would be more appropriate)
So how does one not die while sand boarding in Peru? I can assure you success if you follow these simple instructions:
While the dune buggy driver is driving sideways up giant dunes, scream your head off and white knuckle it on the roll bars

Upon arrival at the dunes in question, reconsider your decision but allow your pride to convince you not to be That Girl who chickens out

Rub an old candle on the bottom of a homemade snowboard

As per the instructors directions, lay on your stomach, grab the bindings of snowboard, push yourself up onto your elbows and lock your arms in this position to funnel as much sand as possible into your cleavage

Slide down a giant sand dune, not even screaming because you are too busy trying not to die

When you reach the bottom, try not to act overwhelmed and respond nonchalantly when an Aussie snowboarder asks what you secret is to get going to fast.

Lather, rinse and repeat eight more times.
And, friends? I would do it again. But maybe only once more.
As you read this, The Mister and I are headed for some whitewater rafting and then a nine hour bus ride to Cusco, where we'll head up the Inca Trail. Apparently, Cusco itself is at such a high altitude, one might be inclined to get altitude sickness. Which one might then treat by drinking tea made from coco leaves.
Indeed. Here's hoping I don't develop a nasty coco tea habit that leads to bloody noses and visions of grandeur.