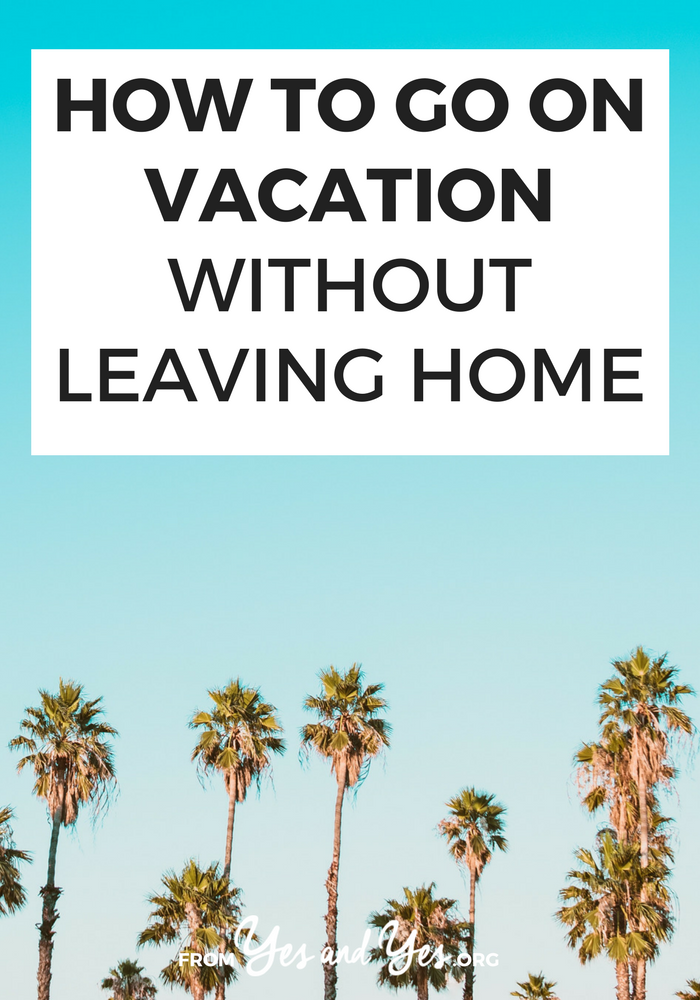 Want to go on vacation without leaving home? Planning a staycation? We've all been there! Whether you're staying home to save money or you just need a break from planes, trains, and automobiles,
Vicki
is here to help.
---
Sometimes, when the time off work just isn't enough but you can't afford flights and hotel bills, a week at home can feel like a holiday in a posh resort with just a few simple touches! Get a few friends, stay in a house together and make it as holiday-like as possible!

How To Go On Vacation Without Leaving Home
* Start the day with a glass of freshly-squeezed orange juice, then go out for breakfast. Have pain au chocolat at a posh cafe, a fry-up at a diner or local hotel, or a takeaway if you like – you are on holiday after all!
* Give yourself a facial whilst listening to your favourite music, relaxing with a glass of wine.
* Decide that for the week, cost doesn't matter. You're saving money by not going away so you can eat all your favourite foods, no matter how decadent!
* Visit your town or city's tourist traps – you may be surprised how many great things there are to do in your town that you'd never have thought to try! See this article for some brilliant ideas!
* Go swimming at your local pool when there's a "free swim" time and take a beach ball!
* Wear your favourite clothes and take time to look your best every day, even if you're just staying in the house.
* Read "trashy" books and magazines, the sort of thing you'd only usually read on the beach or by the pool.
* Write postcards and mail them to your friends and family.
* Forget diets and nutrition, ice cream is a viable lunch option!
* Go clubbing or cocktail-drinking mid-week, it's cheaper than at the weekends anyway!
* Fresh fruit however, strawberries, pineapple and big wedges of fresh juicy orange can be the perfect snack to make you feel like you're on a tropical island somewhere!
* Pick a country and gather together all the movies you can about or from that area.
* Photograph all of it and put together an album of your fabulous holiday so that you can remember it for years to come!
How do you holiday at home? Share your tips in the comments so we can learn from you!
P.S. 10 ways to make the most of your vacation time