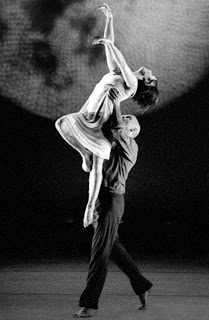 This is part of our work series, in which I interview friends of mine who have fascinating, envy-inducing jobs. I met Mo at my pseudo sister-in-laws wedding and we fell into one of those instant, spontaneous friendships where you find yourself inviting them to your flat in New Zealand before you've even moved there. She's kind and lovely and also possessing of The Best Legs I've ever seen.
So what's the deal? What do you do?
I teach, perform, and choreograph modern dance. What is modern dance? I don't know.Tell us about an average day in life of your job.
Well, in order to make a living in the arts I piece together multiple dance-related jobs. This makes each day different from the next. Right now I teach adult advanced-level modern classes and teen modern classes at
Shawl-Anderson Dance Center
, as well as serve in the capacity of "Office Manager" fifteen hours per week.
I also teach Dance Appreciation to non-dance majors at the University of San Francisco twice a week. One night a week I have rehearsal for a piece I am choreographing, and work on ideas for that at various times. I perform for two amazing choreographers, Nina Haft and Katie Faulkner, and rehearse with them off and on for upcoming projects. A "typical" day involves some kind of teaching, a little office work, and most likely a rehearsal. I also spend a lot of time preparing for all of these things outside of the actual classroom or studio time.
Did you go to school for this? Or get any special training?
When I was an undergrad I was a dance minor, with no thought of making a career out of it. After four years dancing everyday and performing I was completely hooked, so after a short break from school I decided to go back to graduate school for dance. I spent three years at The University of Iowa getting a Master of Fine Arts in Dance Performance.
How did you get into this line of work?
When I was younger I was a gymnast and the coach suggested I take dance classes to help with grace and rhythm in the floor routine. I took lessons from the only dance teacher in town who taught in the basement of an old masonic building. The ceiling was low, the floors were concrete and covered your shoes in some strange grey powder, and I loved every tap, jazz, and ballet class I took. I never thought that I would make a living dancing or be in a professional dance company or teach dance. It's something I can't stop doing, and at some point it became more than just a hobby.
Are there any drawbacks to working in dance?
The biggest drawback for me is the lack of financial stability. Jobs in dance come and go and there are no sick days, vacation days, disability pay, retirement funds, or health insurance. I am constantly trying to piece together enough work to pay the rent and am always juggling different projects and commitments. Another drawback is that people don't really know what I do because it isn't very mainstream. It's difficult to describe and people usually end up saying "that must be fun." And yes, it is, but it's a lot of work (both physical and intellectual) as well.
What are the highlights?
There are so many…I love the moment waiting backstage right before performing. The people that I work with are strong and intelligent and creative and caring. Activity and creativity are part of my job. I don't have a desk. I get to share my love of the art of dance with other people. It's amazing to stand at the front of a class and watch a sea of people moving together. My schedule is fluid and can be flexible. I get to dance in beautiful works of art!
What are the misconceptions about working in dance?
The most common misconception in my world is what I call the "Center Stage" misconception. I feel that the movies about dance portray it as a world of ego and eating disorders and competition. I think that does exist (more in the world of professional ballet), but there are whole other worlds of dance that aren't as mainstream that value community, creative collaboration, social engagement, and healthy living. I keep telling my friends that I want Ira Glass to do a This American Life show on modern dance…I think he'd get it right.
Another misconception is that dance is not a valid academic field of study. There are historians and scholars who engage with concepts of movement on a deeper level and apply philosophy and critical thinking to the art of dance. Dance has more layers and can have more significance that people commonly realize.
What suggestions would you give to people interested in becoming a professional dancer?
Here I must refer to my dad's favorite quote: "Do what you love and do it so well that someone will pay you for it."
Is anybody a dancer wanna-be? Any questions for Mo?