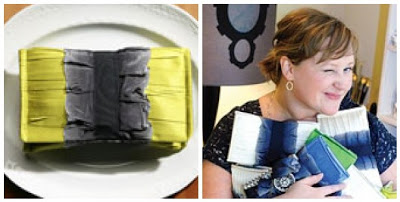 This is one! Of many! interviews with people who have interesting/envy-inducing jobs. They also all happen to be my friends. I met Laura at a Halloween party last October – I was a some sort of sexy Roman (read: trying to wear a toga in the most flattering way possible) and she was a very impressive Raggedy Ann. Over miniature Butterfingers I discovered that she was a handbag designer. No, but I mean she's a real handbag designer. Like, she's had purses featured in In Style. The girl's not even 30!
Her accessories line, Nelle, is made of gorgeous fabrics with delicious details and is quite reasonably priced. In addition to being incredibly talented and super cute, Laura is entirely self-trained. Y'all, she got her start with a used sewing machine from the Goodwill and sewing books from the library. Seriously.
So what's the deal? What do you do?
I run my own independent accessories label,
NELLE
Tell us about an average day in handbag designing.
One of the fantastic things about running your own business is that there isn't an average day. On any given day I could be designing an upcoming collection, developing a marketing campaign, actively pursuing sales leads, or spending time tracking down sources. One thing is for certain, there is always work to be done!
Did you go to school for this? Or get any special training?
No special training or schooling, but I did receive a BA in Communication/ Photography/ Visual Media. Upon graduating I knew that I wanted to work in brand development, but was having a difficult time getting my foot in the door. I decided to create my own opportunity.
How did you get into this line of work?
With the knowledge that I wanted to work in brand development I decided to create my own brand. I considered opening a flower shop, but with the high overhead I new that was not an option. I had worked at a flower shop for a bit in college and was fascinated by using color and texture to build a 3D object. I spent a bit of time thinking about what I enjoyed about flowers and what was something similar that I could create. I landed on handbags. There were similarities between the two and starting a handbag business required minimal overhead! I went to the Goodwill, picked up a machine and some fabric, borrowed some books from the library and got to work.
Are there any drawbacks to working in this field?
I can't say that there are drawbacks to working in this particular field, but I think that when anyone works for themselves or runs their own business you realize rather quickly that there is no one to blame but yourself if things go wrong. You are responsible for all of it, the product, the relationships, the sales etc…
What are the highlights?
I get to create and I get to build something! Searching for materials is exciting and forming relationships with customers and buyers is enjoyable. I am always humbled when a bride decides that she wants NELLE to be a part of the big day.
Are there any misconceptions about working in this field?
I think that there is a fantasy about design; my fantasy is a little space with a dog in the corner, French music playing in the background, and the sun shining through enormous windows, all while I sit sipping tea and sketching out the next seasons upcoming collection. However, my reality is hurried emails/ phone calls to accounts, contractors and media, balancing the books, fabric scraps everywhere, a bit of loneliness, and learning to make sacrifices.
What suggestions would you give to people interested in getting into this?
My first piece of advice would be RESEARCH, REASEARCH, RESEARCH. I spent the first year researching and learning, I still continue to research. The old saying is true; Knowledge is Power.