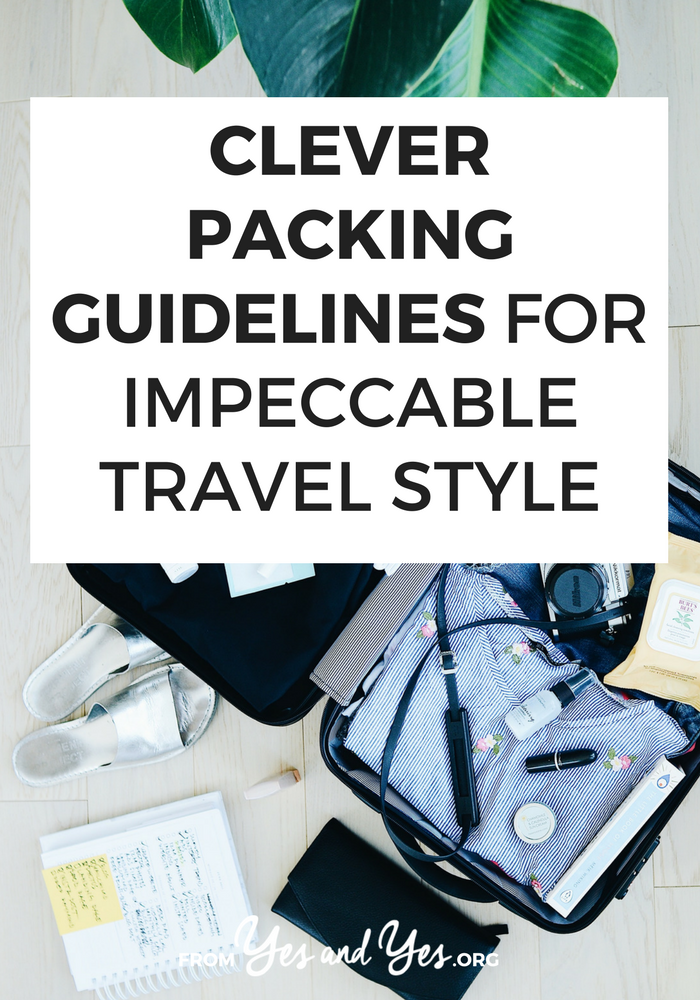 What are the packing guidelines you should follow if you want to a) look cute b) be comfortable c) not sweat or shiver your way across the city? I brought in fashion blogger and personal stylist
Sally
to tell us!
---
My personal travel experiences have led me to believe that packing successfully is darn near vital. Although many packing oversights can be remedied through shopping, sometimes you need to conserve those pennies/Euros/pesos/shekels for things like train fare and lunch. So learning to pack effectively is a valuable skill to cultivate.
Now, packing for a 6-month riverboat journey down the Amazon and packing for a three-week sojourn in Paris are going to be different experiences, obviously. But there are some basic rules you can keep in mind as you're chucking shoes and undies into your rolly bag, no matter where your journey might take you!

Clever Packing Guidelines For Impeccable Travel Style
Choose a single color palette
If all of your items are interchangeable, you'll be able to pull together outfits quickly and easily no matter what's already dirty. Going with black, white, gray, and a single bright color works fantastically.
I usually choose fire engine red, because it's my favorite shade of all time, and one of the best colors for my complexion … but teal, yellow, purple, and hot pink work beautifully, too. Pick a truly vibrant hue, and be sure to bring accessories and shoes in your accent color in addition to tops and bottoms.
Select breathable, natural fabrics
Silk will keep you cool during a long stroll in the Grecian sun, then keep you warm once that sun sets and a chilling breeze moves in off the Aegean. Cotton can be snuggly and warm when you're hiking in the morning mist, but also allows your skin to breathe if you have to make a break for a fast-moving bus.
Sure, polyester washes well and is wrinkle-proof, but it keeps you neither warm nor cool and amplifies your personal bodystink. Stick to the naturals, right down to socks and undies as much as possible. (Wool is a possible exception: As it requires hand-washing and takes forever to dry, pack wool sparingly unless you'll be wearing washable layers beneath.)
Avoid wrinkles … or embrace them
Bring lots of jersey, wrinkle-resistant fabrics (such as twill with a hit of spandex), and knitted items, all of which will bounce back quickly from being crammed into a suitcase.
Or, if you love the world-wise and happily-rumpled look, pack your linen tunics and rayon dresses, boho scarves and chunky bracelets. Just make a decision ahead of time: Are you going to pack crumple-proof items and avoid ironing, or go with a laid-back look that includes some purposeful wrinkle-age?
Bring only one pair of heels
Unless you're going on a journey that involves charitable works, long hikes, and rural travels exclusively, you should be sure to include a single pair of dressy heels.
BUT limit yourself to that single pair, and bring only flat shoes besides. Flat boots, Mary Janes, sneaks, ballet flats … if you're a shoe person, need options, and don't mind some heavy duty schlepping, pack 'em all. Just make sure they're FLATS! Travel = walking unless you're on a cruise. Don't fool yourself into thinking you can make heeled shoes work for anything other than a fun night out.
Invest in disposable jeans
Jeans are a travel must regardless of destination, but I recommend against bringing your best pair. Your favorite jeans likely fit into at least one of these two categories: They set you back a pretty penny, or they took you a hillion jillion years to find.
What happens when you spill borscht on them, or snag them on an ornery bramble, or lose them at the laundromat? You CRY BITTER TEARS, that's what!
I prefer to pick up a comfy, slightly beat-up pair at a thrift store for trip usage: I feel free and easy in them, and don't give a flying rat's ankle what happens to them once I'm safely back home.
Pack mostly separates, but at least one dress
If you follow rule number one, you're throwing a lot of black, white, and gray into your duffle, as well as items in your personal favorite bright, cheerful accent color. Generally speaking, you'll want to pack tops and bottoms: Tees, sweaters, wrinkle-resistant blouses, and tanks as well as skirts, capris, and pants. But make a practice of toting at least one dress.
A flattering dress can be paired with your single pair of heels for nights on the town, but if it's jersey or cotton it can easily transition to day with a pair of flats. Even if you have no fancy events on the docket, you just never know when a dress will come in handy.
I've learned most of these guidelines the hard way, and am fairly certain I'll never violate them again.
What do YOU keep in mind as you pull from the closet and tuck into the suitcase? Ever found yourself stranded in a foreign land, wishing desperately you'd packed differently? 
P.S. 7 travel tools I won't shut up about!
photo by STIL // cc