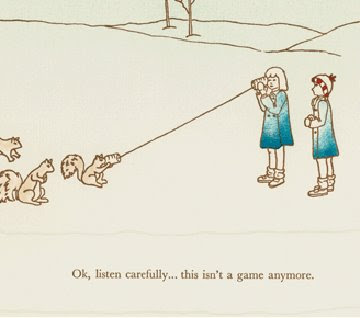 Everybody loves getting mail. But if you send these adorable wooden postcards? You might just be fending off marriage proposals.
Never have boxes with stuff in them looked so romantic and whimsical.
Wine of the month clubs are so passe. How about The Thing Quarterly? Subscribers pay $140 a year and receive a new piece of art every three months. The catch? They know who the artists will be, but have no idea what they will get. Past 'issues' include a pull down window shade by Miranda July that reads "If this shade is down, I'm not who you think I am" and an orange, rubber door stop with a fan letter to Bill Jean King from Anne Walsh.
Ohmygod. A toy a day? 365 tiny, adorable 3-D paper toys you print, cut out, slide together and then display in your cubicle to the envy of all your workmates. I particularly like Frida Kahlo, Brian Griffin, Alice Cooper.
So damn awesome. A Belgian artist builds a man-sized nest on the side of sky-scraper and lives there for seven days. Whilst wearing a feathered headdress and periodically throwing feathers on to the people below.
I love this poster.
A fantastic window shade that replicates the look of a city at night.