I think it is universally acknowledged that we're all half in love with Winona of
Daddy Likey
. She's wicked funny, she's really nice, she's got hair as good as mine and she's written for National Geographic, y'all! I'm lucky enough to count her among my internet girlfriends – we're working on a plan for 2012 to blog our way across Russia on the Transiberian Railroad. Consider yourselves warned!Pretty much everyone on earth agrees that French women always look effortlessly chic and perfectly pulled together. So what's their big secret? Good genes? Nope. Magical La Mer skin cream? Well, yeah, that probably helps, but it's not the big secret. OK, do you really want to know?
Scarves.
Seriously, look closer at any photo of a stunning French woman, and you'll see she's wearing her Michigan State sweats and an old t-shirt from the Hanes 3-pack. It's both empowering and terrifying to realize it, but the only difference between you and a stylish French woman is that she has a gorgeous scarf around her neck.
Scarves and hats are very similar in that they take very little effort—extend arm, grab scarf and/or hat, and put it on— but have the power to upgrade or transform a whole look. No matter your hurry or mood, there's no excuse to not throw on a pretty scarf
To make things even easier, there is really no such thing as a bad scarf, so the details here are up to you. Wide scarves, skinny scarves, warm scarves, printed scarves, solid scarves, sequined scarves, cheap scarves, expensive scarves—I love and own them all. You could make one designer silk scarf your signature look or could wear a different scarf every day. Either way, you'll look amazing. Here are a few of my current favorite scarf finds.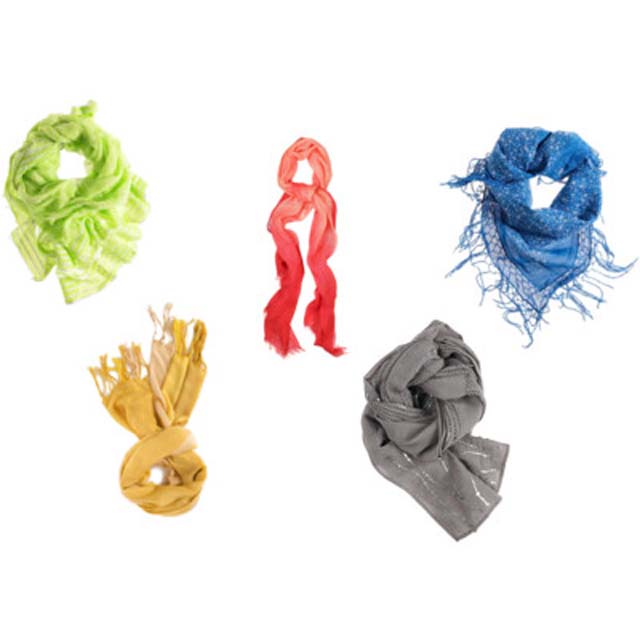 Tie any of these gorgeous options, or an old scarf of your own, around your neck nonchalantly, practice saying "Oui, oui!" and just try to walk to the corner store without getting mobbed by street style photographers. They won't even notice that stain on your Michigan State sweats.
Are you a scarf fanatic? And, more importantly, when you wear them – do people think you're French?