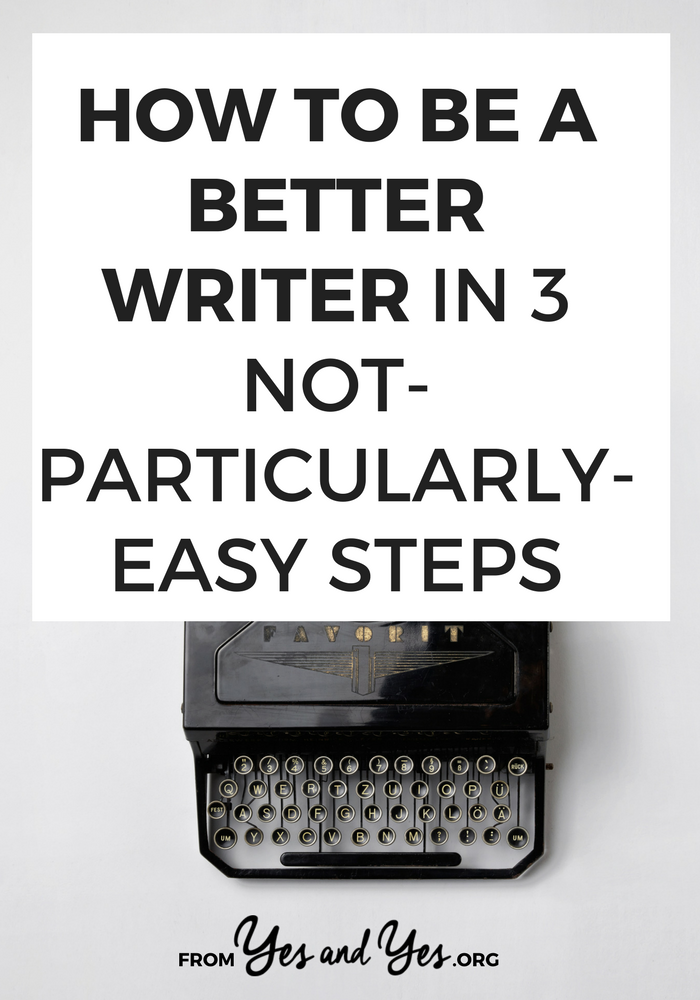 How does one become a better writer? Is there a pill? A 5-step process? A short manual?Alas, no.
But today writer and comedian Sarah Storer is telling us how she became a better writer.
A reader asked me recently how to write, citing specifically that she has trouble getting emotions from heart to page.
While I was flattered to be asked to share this advice, I began to think back on the steps I took to be a better writer. Lo and behold, I came up with three essential steps that every writer should keep in her toolbox.
Read away, Internet, and then go write something!
How to be a better writer: Get honest
You can't be a good writer till you learn to be honest - with yourself + with your readers. Click To Tweet I know that seems like an obvious piece of advice. But I had to train myself to actually write what I meant. I started doing personal journaling where I forced myself to write EXACTLY what I was thinking.
For example, don't write "poop" when you're thinking "shit", don't write "make love" when you're thinking "fck". I found that I was censoring and editing myself a lot.
When I forced myself to write uncensoredly in my personal writing, I was able to write more honestly for an audience.
How to be a better writer: Write every day
In college I hated this phrase: "Good writers write always." I would think to myself, "Well, I can write well, I don't need to write every day." Wrong. Wrong, wrong, wrong.
I think the blogging world is a little different, because readers expect regular posts, but it wasn't until I began writing (nearly) every day that I saw a spike in my readership or improvement in my style.
Even if I'm not publishing something, I'm writing. I'm writing a speech for my Toastmaster's group, writing an e-mail, writing a paper. If you don't have the initial discipline to write on your own every day, join a class or a group where you will be forced to write regularly. You'll be surprised at how the words start to flow.
How to be a better writer: Find your voice
Write like who you are. Learn to write in the same way that you speak and think. (Though obviously within most of the rules of good grammar and syntax. Really, there is nothing worse than visiting a blog where everything is all "omg u wer so awesome lol on mi blkberri, lmao!!111!")
My verbal conversations are almost always light, a little snarky, and wry. It took me a long time to begin to write this way. I thought "People can hear me talk, why would they want to read the same thing?"
But they do, because, again, your true writing voice stems from an honest place. Finding a voice takes time. Sometimes you'll find it just sort of "evolves." But, if you're being honest and writing every day, it'll come sooner than you think.
If you've a writer and you've improved – howwwww? Tell us in the comments so we can learn from you!
P.S The DIY writing retreat I swear by + How to find your writing voice