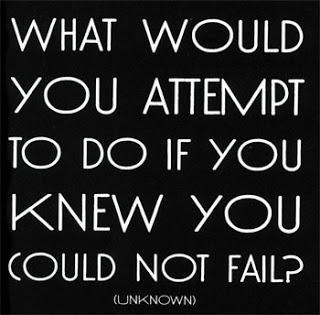 credit
Now, I am not someone who generally expects to fail (witness
my totally unfounded belief that I am destined for cycling greatness
) but my reckless enthusiasm is often tempered by a big dose of "Let's be realistic now." Visions of night-club siren-songing get watered down into karaoke nights and book-writing becomes blog-writing. I'll give myself a tiny pat on the back for at least heading in the right direction, but I sometimes wonder
what would I attempt to do if I knew I couldn't fail
?So many things, friends! Like:
The aforementioned night club singing – all cooing and Jessica Rabbit-ish.
Writing a book. Or books! Wild, ridiculous children's' books, full of outlandish pictures! And funny travel books that give Bill Bryson a run for his money!
Becoming a tap dancing fiend. I'm not sure where my tap dancing success would take me, but I'm sure it would be full of glittery jazz pants and seamed stockings.
Giving up the 9-5. I love my job. I do. But I would love to be one of those people who cobbles together a decent living through a bunch of free lance work and general fabulousness.
As I type these fantasies up, I can't help but think "Why am I not making these things happen? Why am I sitting on my haunches, settling for the watered down version of my dreams?" It's go time, kiddos. What would you attempt to do if you knew you couldn't fail?