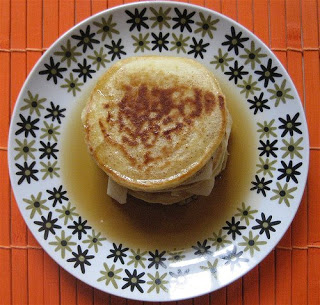 credit
Now. I will grant you that going out to eat before work isn't quite as challenging as
cycling 88 miles with no training
or
braving a Scientology lair
, but it's hard to resist the siren song of pancakes, yo.
So it was with visions of giant muffins dancing in our heads that my friend Jess and I braved drizzle, fog and 6 am eye goobers to dine at our local Perkins. I ordered my usual stomach torture of orange juice, coffee and hashbrowns and Jess indulged in the ubiquitous giant muffin. We chatted about dinosaurs and thrifting, eavesdropped on the people across the aisle discussing Catholicism and attempted to guess our server's gender (the jury's still out – those fake nails aren't fooling anyone, dude).
I headed off to into the rain, feeling smug that it was only 7 am and I had already accomplished something fun and lovely. Recommended.