In college, a friend once accused me of being the human incarnation of
The Fancy Feast
Cat. He probably made this comparison because I want to be carried everywhere on a pillow and eat all my food out of a crystal goblet … but I'd like to think it also had to do with the fact that, like a cat, I'm constantly trying to fit myself into the most awesomely tiny and cozy space available.In that paper bag. Under your dresser. Inside a sock.
I lovelovelove tiny living spaces. Anybody can make a 3,000 square foot McMansion work, it takes true talent to make a postage stamp studio look lovely and uncluttered. There are so, so many benefits to living in a small space. They're cheaper, they force you to be a conscious consumer and you can actually afford do them up in high style. It's pretty hard to swing 1,000 square feet of mahogany flooring, but 15 square feet? I bet you could do that.
Here are some of my favorite tiny gems that I've found while trawling the internetz.
How cute is this tiny little place? It's rented by Apartment Therapy bigwigs Maxwell and Sara Kate. Would you believe that they've lived in these same 245 square feet for 14 years? And now they share this space with a baby!? Impressive.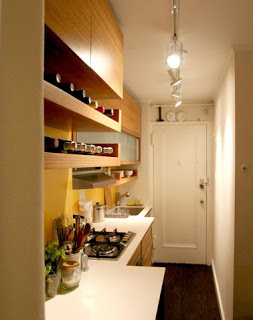 I think this is actually bigger than my kitchen.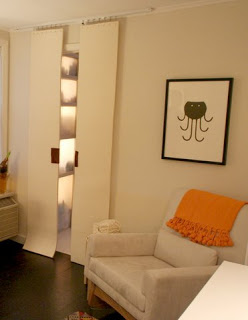 Look at those genius doors! The renters made these
themselves out of industrial felt.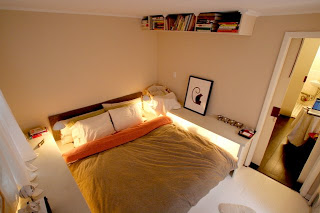 Clever, clever putting lighting in the bedside bureaus.
Magical, I think.
400 Square Feet of Awesome
Compared to the above 275 square feet, this place seems nigh-on enormous with it's luxurious 400 square feet. The renter is a girl after my own heart, decorating almost exclusively with Ikea and Craigslist finds.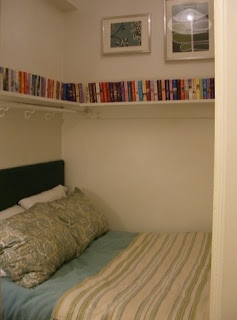 So clever! Tara converted her high-ceilinged walk-in
closet into a wee little nest of a bedroom. I would
love to snuggle up in there with all of those books.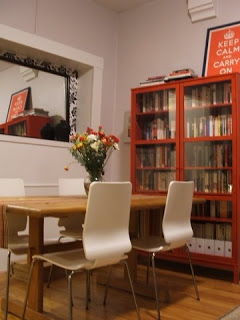 Is that red bookcase fantastic?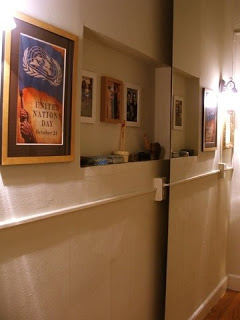 Mirrored armoire = hallway seems a gajillion times bigger.
Gajillion, it's an official measurement term.
We're all a little big in love with the
Tumbleweed houses
aren't we? They're made from beautiful materials and filled with the same gorgeous details you find in huge, expensive homes. I can't get over what a delicious little morsel this house is.
Not an outhouse.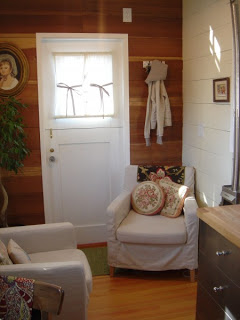 I love the modern/cottage look. Look
at that cheeky little portrait to the left of the door!
Vacation homes are expensive, eh? But maybe you could afford a one-bedroom, 11′ by 11′, vintage tourist cabin? The current owners bought it in 2006 for $500! People own shoes that cost more than that! They completely furbished it, trying to stay as true as possible to the cabin's humble roots.
I love the period-appropriate fan.