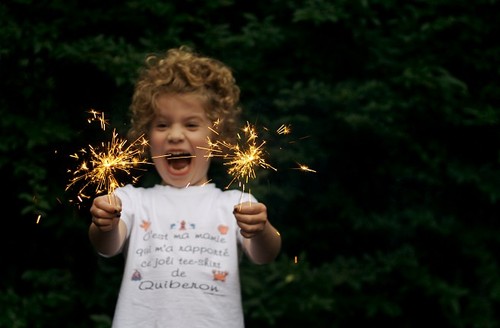 credit
This Independence Day, let's do more than wilt on the curb while people throw candy at us. A few ideas?

Buy a packet of sparklers, set your camera's shutter speed to turtle-esque and write gorgeous, sparkly messages in the air.
Here's how.
Bake the ubiquitous
flag cake
. Eat it with your hands and several of your closest friends.
Rock red, white and blue underthings.
Put on your bikini and run through the sprinkler. Bonus points for setting up a Slip n' Slide.
Make an Independence Day play list. Mine would include Ryan Adams' New York, New York, Steve Earl's City of Immigrants, Ani DiFranco's Independence Day, and inexplicably, Bon Jovi's Living on a Prayer.
Read about America's Five Most Badass Presidents of All-Time (Andrew Jackson almost beat a would-be asassin to death with his cane?!)
Try these patriotic cocktails.
Take this quiz to determine how independent you are.
Dig out last year's Halloween costume, buy a bucket full o' candy and join the nearest parade.
Make a list of things you love about your country – America or otherwise. I love this list.
Rewatch Team America. Talk like MATT DAMON.
Jump off a rope swing into a swimming hole.
Put new things on the grill – peaches! pineapple! beets!
Kiss someone under fireworks.
Thus far, my plans for the long weekend involve a haircut, painting my living room the color of mermaid, vintage aprons, sweet corn ice cream, maybe an Elvis Costello concert (or maybe White Snake) new and old friends. What about you?