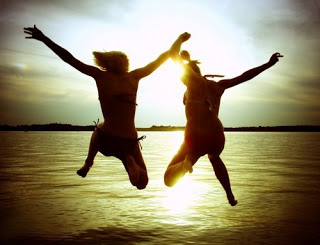 Can you do this? Trace back the paths your life has taken to one single person who pointed you in this direction? That person who was a turning point?
For me, the person who changed everything was a co-worker. I was 20 and interning at a newspaper, typing up ridiculous social columns and taking pictures of fire-fighting contests. Barb was in her 50s, a hippie from California that had moved into her family's old cabin in our tiny resort town. We giggled over our granola and yogurt during lunch breaks and I encouraged her to ask out the one male hippie in our town.
Later, Barb hooked me up with an internship at an advertising agency – where I met Sunny, who had lived and modeled in Taiwan, making a small fortune by wearing swimsuits in tacky karaoke videos. Sunny introduced me to her brother who recommended a great English school in Taiwan that I worked at for a year and a half and where I met heaps of amazing people – including Katheryn, who told me about the MA program in Wellington, NZ where I lived for another year and half.
Now I'm back in Minnesota, with one rather diverse resume, a Master's degree and a full passport, thanks largely to one very funny hippie who just happened to sit next to me on my first day of work.
Who's the person who changed it all for you?