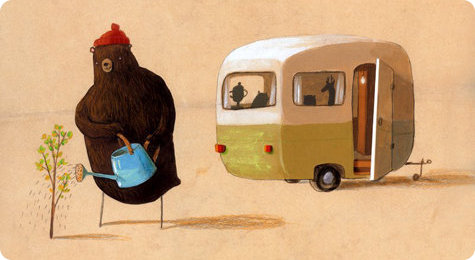 credit
Happy Labor Day! In the event that you're worn down from all that barbecuing/Corona drinking/ bonfire watching – a few links for you perusal!

Have you seen the
This is Home project
? Designers and writers send in submissions for what home means to them. I love
this one
. Okay, and
this one
.Did you know that my girl Winona (of DaddyLikey fame) wrote an effing book? Good lord, woman, could you beeee more awesome?! It comes out in two months and is sure to be as funny/helpful/fantastic as her blog.
Go check it out
!
Whaaaa? A techno remix of William Shatner talking about Captain Kirk climbing a mountain? Dudes, this business is catchy.
For all you rugged travelers out there: taking freight ships is apparently a cheap-o alternative to cruises. I am so intrigued by this!
Awesome and awesome – female assassins and their intended victims! My favorite is Charlotte Corday, a 25-year-old Parisienne who stabbed one of the leaders of the French Revolution in his own bathtub. Oh my.
Ceeee-ute! Make your own terrariums out of old pickle jars.
Six types of crappy hugs. Are you guilty of any of these?
Oh, that I would have had this for my birthday – a six layer cake in which every layer is a different color. Rainbows are delicious!
Operation Beautiful leaves encouraging, positive post-its all over the world. Lovely!
Apartment Therapy put together a great list of their favorite DIY projects for the long weekend.
I find this list fascinating – 15 Smart Celebrities. I'm not sure how they got a hold of her IQ score, but being a smartie is just another reason that I love Shakira. I also love her because of She Wolf – now in the running for The Most Awesomely Ridiculous Music Video Ever.
Y'all know I love tiny houses. And novelty houses. So you can imagine how much I love this list of 10 Amazing Treehouses from Around the World.
If you're on a budget or trying to rein in your shopping habits, check out this great list of questions to ask yourself before you buy something. Seriously, I am printing this business off and keeping it in my wallet, wrapped around my credit card.
I love Mika's sweet, joyful music. And his single We Are Golden is, as per the usual, Teh Awesome. And I'm not just saying that because I, too, love dancing around in my underwear to mix tapes.
The gorgeous visuals of this Kid Cudi video and the clever split screen effect are almost cool enough to make me overlook those questionable lyrics.
This incredibly brave woman is having 100 cups of coffee with 100 different men in an attempt to find true love. That is some serious stamina.
Things that are awesome: hip hop music superimposed onto old Bob Fosse dance routines.
I hope you're having a fabulous weekend!