What would you say if I told you that I believe that not all holidays are created equal? Sure, I can appreciate the giving and the snow and the excessive food that accompany Christmas. And I do love being pelted with candy during at any given Fourth of July Parade. But, come now. We all know that both of those holidays are the ugly stepsisters to the hottie that is Halloween. Costumes! Candy! Weird scary stuff!My cohorts and I are so deeply into Halloween that we felt we needed to start with the scaring somewhere around October 10th. (Really I think that wearing a weird costume at any point during October should be acceptable, don't you?) So we joyfully joined in Minneapolis's fifth annual zombie pub crawl. Because drinking is always more fun when you do it with strangers who appear to have rotting flesh.
A bit of photo documentation from Yes and Yes's resident photographer, you say?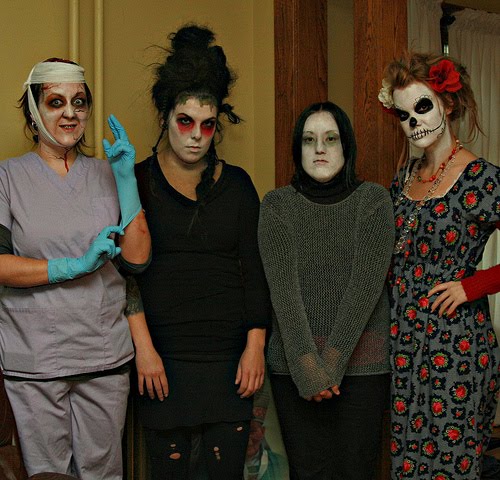 Don't we look like an early 90's album cover? The BFF was a zombie brain surgeoun, Jill was a zombie witch, Mo was your average Asian horror movie zombie and I was a Dia de los Meurtos zombie (and yes, I realize that's not actually a thing. I mostly just wanted big hair with a flower)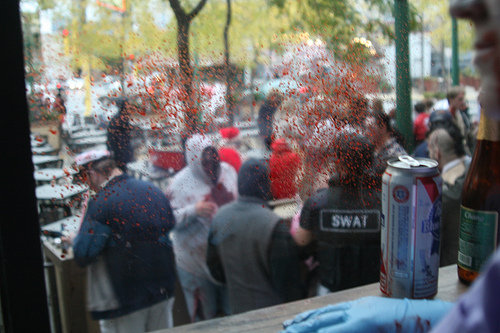 Holy yes. Fake blood all over the windows of the bar. The zombies outside kept tackling the innocent passers-by.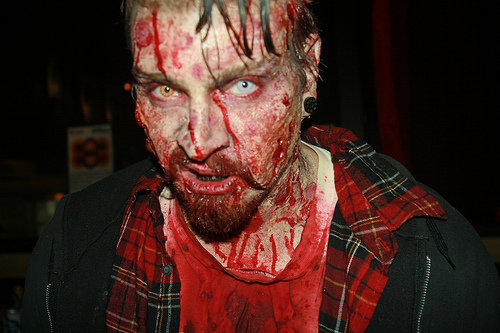 Is this a real zombie? I'm not sure. At one point in the night, I stood next to a girl dressed in a bloody lace prom dress who spent fifteen minutes staring into the middle distance and gnawing on what appeared to be a real bone. Stoned or hungry for brains? You be the judge.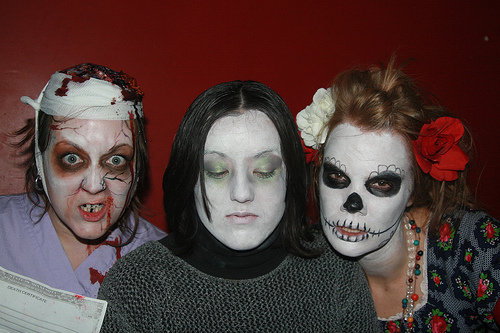 As the un-dead designated driver, I spent the majority of the night drinking diet cokes, dancing to Thriller approximately a million times, trying to speak zombie Spanish and being concerned my nose makeup was rubbing off. We also played host to a rubber dismembered arm that we used to elicit high fives from fellow zombies. And from completely weirded out and overwhelmed people who happened to be in that part of town.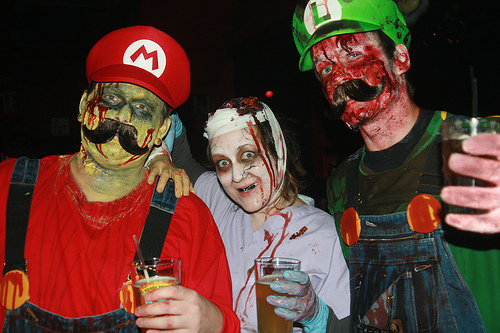 Mario and Luigi zombies! Awesome, no? We also saw the entire zombified cast of The Wizard of Oz, multiple Michael Jacksons, a Julia child and a (fake) pregnant zombie that had baby doll legs sticking out of her stomach. Oh my.