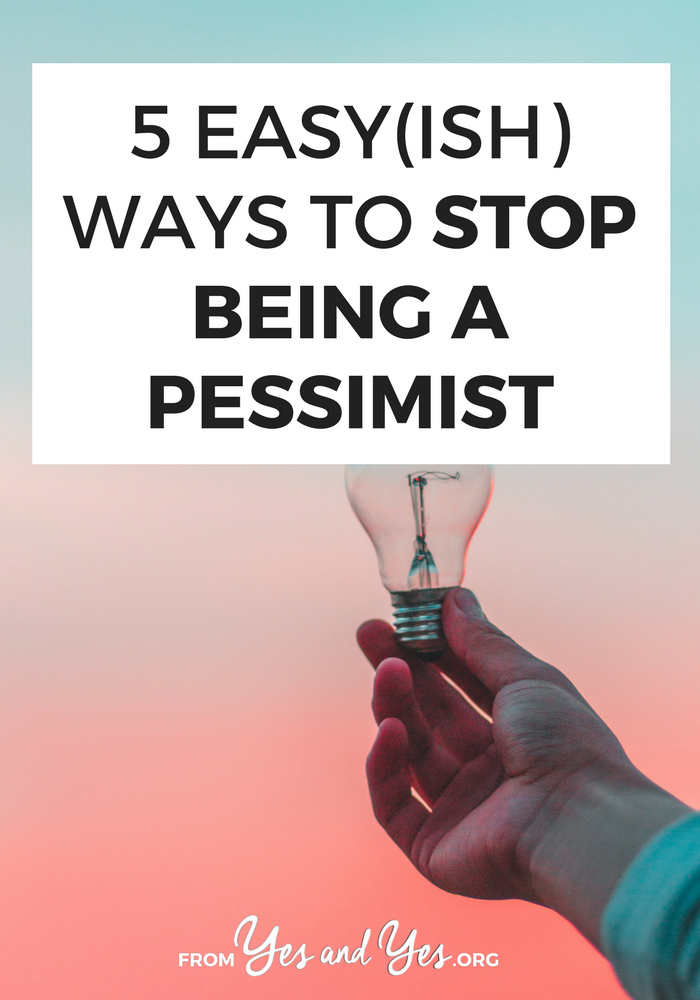 Is it possible to stop being a pessimist?
Which is to say: Is it possible to re-wire your brain? To change your personality? To alter the way you navigate life?
The short answer is: sort of.
Science tells us that we all come with a built-in 'emotional set point' – some of us are just naturally happy and some of us are just naturally …. less happy.
But! We can move the needle! We can make ourselves happier or at least less pessimistic. Today, reader Gene tells us how he's moved away from his pessimistic tendencies.
Over the past several months, I've really been working hard on developing a better attitude about life and getting more accomplished. I used to be really negative, so I started reading up on what's helped for other people who weren't born with sunny dispositions and decided to try a few of their ideas.
5 ways to stop being a pessimist
Make a list of positives
Each day, I try to make a list of five or six items that I think were positives from the day before. Even when my day has been subpar, I still work for six. It helps me think about the day before in a positive way instead of a blur of activity.
Credit is given for each thing that I feel helps me become a better person, husband, dad, friend, employee, etc.. Did I get up early and on time? If so, it goes on the list. Did I bike to work or exercise? Yay for me, it's on the list.
Time with family and friends, healthy eating, completed projects at work, books read, and nights when I go to bed early all go on the list. It's been addictive for me.
Be careful and intentional about consuming media
I'm very, very careful about how much news I read, listen to, or watch. If I want information about an issue I can always research it and I still know what's going on without the daily input.
If you're someone who isn't bothered by the news, awesome. But if you're like me and the news can come between you and an otherwise perfect day, maybe you should try giving it up. Maybe just try it out for a short time. Like for a week. Trust me.
Instead of Morning Edition or Fox and Friends (dude!) how about your favorite record? You know that record that's been sitting on your shelf for a while that makes you smile because the arrangements are so surprising and the lyrics and harmonies make your heart EXPLODE with happiness? Start your morning with that and then take on your day with spirit!

Eat things that make you feel good
Almost anything will do for breakfast. There are lots of people who will tell you that breakfast is the most important meal of the day, and they're right. That said, it might also be beneficial to have a snack right when you get home from work.
Low blood sugar can make a person grouchy and then by the time dinner is actually served that you're HUNGRY. A few chips and salsa or a slice of bread with butter and honey might be the difference between a great evening and a not so great one.
Move your body in a way that you enjoy
We've all heard it. Exercise releases endorphins and gives you energy and raises your metabolism and blah, blah, blah. It's all true though. Even just a few minutes of walking in the morning can help you get your mind right.
Avoid negative conversations
I'm not sure where I heard it, but the words we say actually have a lot of influence on our thoughts and attitude. Nobody leaves a negative conversation in a better mood. Click To Tweet I've never seen people walk away from those conversations very happy, even if they were in a great mood to begin with.
I don't get all superior when I'm in one of those situations, I just find a way to tactfully remove myself. If I'm in a meeting with my coworkers and they're all complaining, I usually just keep my mouth shut or crack a joke every once in a while. There might not be much else you can do in those situations to remove yourself, but not participating will do wonders for your attitude.
Are you a born optimist? How do you stay positive? Tell us in the comments so we can benefit from your wisdom!
P.S. How do you stay optimistic when everything is terrible