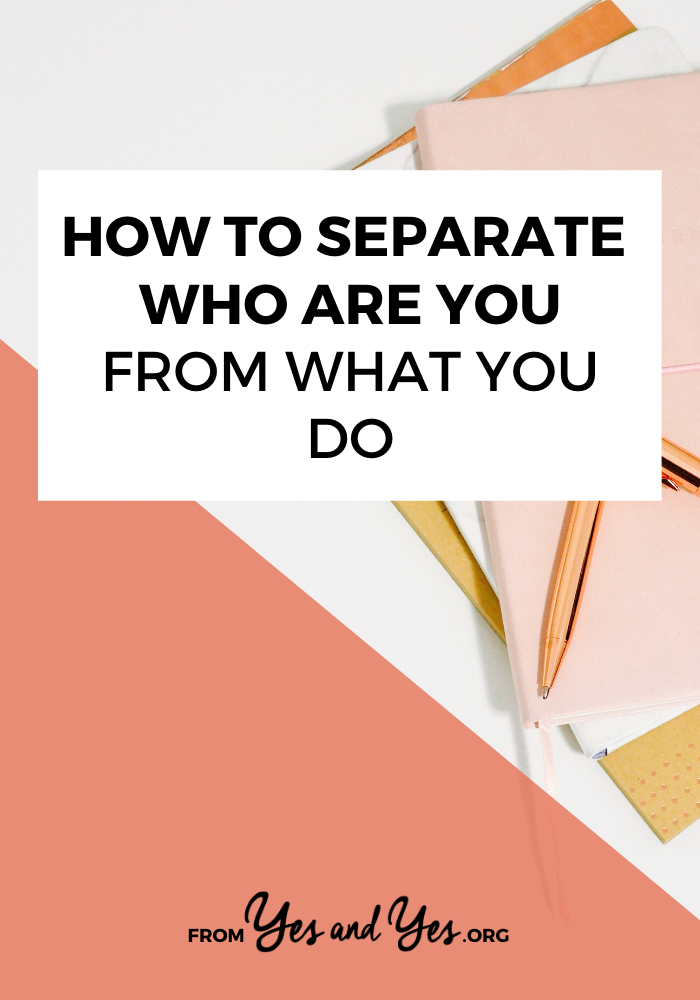 If you're totally devoted to your career or profession, is it possible to separate who you are what you do? If you truly love your job is that something you even need to worry about? If you suspect that your identity is too tied up in your work, this post is for you.
---
Dear Sarah,
For the last two years I've been working as a freelance writer, but recently took a second job at a coffee shop to get out of house and help make ends meet. It was actually really hard for me because I've realized that taking this seemingly simple second job made me confront a lot of intense issues surrounding my idea of identity.
Like, for the past year and a half, I'd been a WRITER. That was my identity and I'm really proud I was able to support myself by writing. But somehow, the moment I accepted the job offer, I felt like a failure, and I felt really confused about what I was and who I was.
I hope that doesn't sound cocky or stupid or both, but I felt like being a full-time writer had defined me for quite some time, and the addition of 20 hours a week slinging espresso muddled that definition. Do you have any insights on how much your job should play into your identity? It's so crazy too because I've always valued things like relationships and creativity and sleep more than career advancement, and here I was having an emotional breakdown about working at a coffee shop at age 24.
Oh, friend. Have you been inside my brain? Were you living my life Aug – December of 2007?
I think people generally have one of two approaches to work – some people view their jobs as a means to an end: a way to make the money that feeds their hobbies and families and adventures.
And there are other people, often people who work in creative fields or who view their careers as something of a 'personal calling,' who think of their jobs as integral parts of who they are as people.
Of course, there's not a right or wrong way to view your work life, you have to do what works for you. But for those of us who've been wanting to write/paint/heal/bake for our whole lives, it can be really disorienting to find ourselves out of our element.
So I think the question here isn't so much "How much should your job play into your identity?" as much as "My job plays into my identity a lot. And now my job's changed a bit – what should I do?"
How to separate who are you from what you do 
Diversify your identity + your sources of happiness
Accept that maybe you can't change your mindset
If you've been writing/dancing/trying to invent cold fusion since you were 5 years old, it's probably unlikely that you can 100% disentangle those interests from your identity. And I, personally, think that's okay!Don't feel guilty about it! But you should also realize that just because your job title no longer coincides with your interests doesn't make you any less of what you are.
Keep talking about yourself as a writer/dancer/scientist
When you are making the rounds at those ubiquitous holiday parties, you don't need to introduce yourself as a barista/office temp/professional couch potato. If you were a writer for five years, and you're currently making coffee occasionally, you're still a writer.
And who knows who you're going to meet? It'd be a pity to introduce yourself to a book agent as a coffee slinger when you've had three books published.

Keep honing your craft
Even if your income is currently coming from your job as a bank teller rather than from photography gigs, it doesn't mean that you should stop learning PhotoShop. In fact, this should be all the more reason to take it to 11!
Re-entering the world of professional potters/event planners/tap dancers will be easier if you've got some new tricks up your sleeves.
Realize that we all need breaks from time to time
If you work in a creative field or a field that requires a lot from you emotionally, you're going to need a bit of downtime once in a while. Creatives often need time to let their left brain do a bit of the heavy lifting. View this as a time to let your grey matter rest a bit.
Keep hanging out with people who inspire you
If you're a laid off research scientist who's currently working at The Gap, there's no reason that you can't keep hanging with your researcher friends.
This isn't to say that you need to blow off that very nice college girl who folds sweaters so well, but spending time with people who are excited about the same things as you, know about developments in your field and actually care when you talk about genomes will make you feel a bit more normal.
Realize that this is a comma, not a period
Ya like that? How I made a nerdy writing pun because we're talking about a woman who's writer? Yeah, I thought so.
If you've accepted that being a writer/sculptor/massage therapist is simply Who You Are, know that if you work at it, you'll work in your field again. Generally, I think that people who define themselves in these terms are pretty kick-ass at what they do, and it's just a matter of time before they start being professionally kick-ass again.
How much do you identify with your job? Any other advice for our friend?