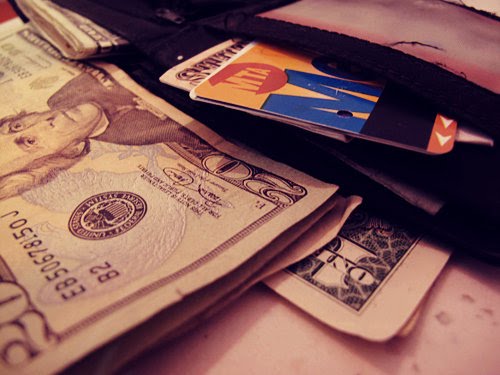 Having worked in the hospitality industry before, I'm usually a pretty good tipper. If you ignore me, make snarky comments about my order of pie and bacon and then spill things on me, I will still probably give you 15%. And if you behave like a human being? I'll give you 20%.And sometimes I'll just give you 20% because my math skills rival those of a third grader and somehow it's easier to figure out 20% than 15%.However, I'm not one of those people who tips three dollars for a five dollar drink. Largely because three dollars is roughly equal to my non-profit teacher's salary. So I knew that if I was going to do this giant-tip thing, it was going to have to be A Very Special Occasion.
And what is a weekend in Vegas if not A Very Special Occasion?
During our three-day weekend in Las Vegas, the BFF and I ventured ever.so.slightly off the beaten path (aka three blocks from Fremont Street) and happened upon a very promising little piano bar, endearingly named Don't Tell Mama. We decided that we should probably pop in for a few drinks, hoping that we'd see a sexy lady in a sequined dress rolling around atop a baby grand.
We did not see this. Instead, we saw a nearly empty bar, being serenaded by a 20-something dude who looked like a chubby Jonathan Brandis but sounded oddly like Frank Sinatra. We ordered drinks from a lovely and attentive waitress, suffered through a drunk and mumbled version of 'Fool's Rush In' and wondered if we could find pizza anywhere between the bar and our hotel room.
But just as we were emotionally committing to a night of cheese and carbs in front of HBO, the lovely and attentive waitress took the stage and blew us away with her rendition of At Last. And then with You're Gonna Love Me. And then lovely and attentive bartender took the stage and there were various amazing and awe inspiring duets! And then the other bartender joined them and it Destiny's Child all over again. Really. It was amazing.
And it was obvious that everybody who worked there loveloveloved their job. They loved each other. There was that tangible taste in the air of people doing what they love. And the former theater-geek in me just wanted to jump up and hug all of them, wanted to be a 20-year-old music major at UNLV, waitressing at the coolest little piano bar in Nevada. They were so good at what they did and obviously loved it so hard.
I decided that they loved their job 110% so that's probably the tip I should leave. So I did. And then I went back to the hotel and ate pizza in front of HBO.
Have you ever left a giant tip? Or received one?