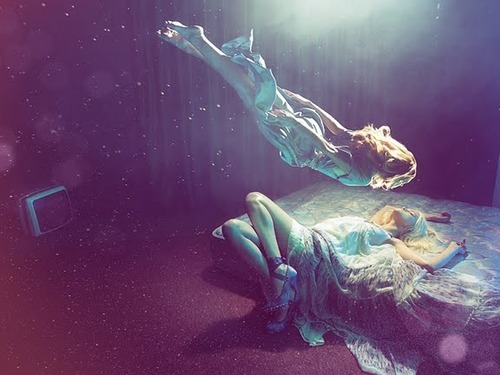 I'm not particularly good at dreaming.I mean, I can
fantasize
with the best of them. I could ramble on for hours about my plans of world domination and running marathons and having a herd of lop-earred bunnies at my beck and call. But actual dreaming? Like imagining things while I'm sleeping? I'm oddly bad at that.
But I bet I can change that. Have you ever heard of lucid dreams? Essentially, they are those dreams that you have where you are aware that you're dreaming, and bizarrely enough, you can apparently learn how to have these dreams. What? Yes. Allegedly you can even teach yourself how to have lucid dreams where you fly!
Let's learn how! (tips based on this wiki how article)
1. During the day repeatedly ask 'Am I dreaming?' and perform some reality checks whenever you remember. With practice, if it happens enough, you will automatically remember it during your dreams and do it. Maaaaybe you don't want to do this outloud in the office you share with your boss?
2. Keep a dream journal
Keep it close by your bed at night, and write in it immediately after waking. This helps you recognize your common dream elements (people from your past, specific places, etc.), and also tells your brain that you are serious about remembering your dreams.
3. Learn the best time to have a lucid dreamBy being aware of your personal sleep schedule, you can arrange your sleep pattern to help induce lucid dreams.
Studies strongly suggest that a nap a few hours after waking in the morning is the most common time to have a lucid dream. Lucid dreams are strongly associated with REM sleep which is more abundant just before the final awakening. This means they most commonly occur right before waking up.
Dreams usually run in 60-minute cycles. If you are working on dream recall, it may be helpful to try waking yourself up during one of these cycles (interrupted dreams are often the ones we remember).
4. Try Stephen Laberge's mnemonic induction of lucid dreaming (MILD) technique.Set your alarm clock to wake you up 4 1/2, 6, or 7 1/2 hours after falling asleep. When you are awakened by your alarm clock, try to remember the dream as much as possible. When you think you have remembered as much as you can, return to your place of rest, imagining that you are in your previous dream, and becoming aware that you are dreaming.
Say to yourself, "I will be aware that I'm dreaming," or something similar. Devotedly hope that the person sharing your bed does not think you're crazy. Repeat this a few times and go back to sleep. If random thoughts pop up when you are trying to fall asleep, repeat the imagining, self-suggestion part, and try again. Don't worry if you think it's taking a long time. The longer it takes, the more likely it will 'sink in,' and the more likely you will have a lucid dream.
Would you ever try this? What would you want to dream about? I think I would want to dream that I'm flying on a magic carpet over Bankok. Or maybe riding Falcor.