If you, like the rest of the northern hemisphere, are suffering from Mid-Winter Malaise, a new hair do might help, yes? If you're a bit too punky for the ubiquitous
princess hair
but you don't want to overwhelm your grandma with your mohawk, please allow me to introduce you to your new best friend: The Faux Mo.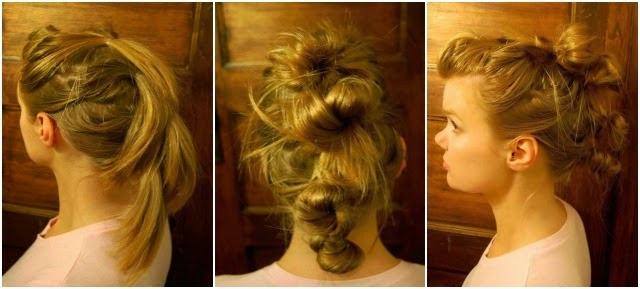 It's funky, it's fancy, it's even work appropriate! And better yet, it works best on dirty hair and takes all of one minute to put together. See? I told you you'd love it.
Recipe:
8 little hair binders
2 bobbie pins
Some hair gel
Lots of panache
1. Rub some gel through your hair if it's not suitably dirty. Give it a proper mussing.
2. Pin your bangs back into a poof. When in doubt, bigger is better.
3. Pull your hair into three or four little ponytails, in a vertical line down the back of your head.
Using the other four hair binders, twist your four ponytails into messy buns. The messier the better.
And you're done!