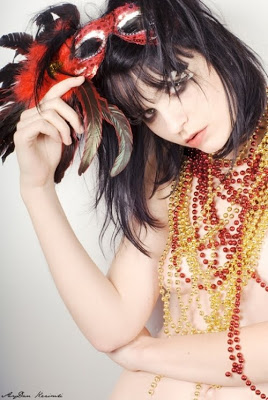 Did you hear that Valentine's Day around the corner? I'm sorry, I hadn't noticed – I've been too busy practicing my bead-catching skills and considering my stance on flashed boobies.
This year, I'll be ringing in V-day in Lafayette, Lousiana in the company of two good friends from college and several thousand drunken revelers.
If Valentine's Day isn't exactly your bag, you'll be thrilled to know that this year, Mardi Gras falls on the same weekend.
So if you're single, living far away from your lover or are just all "Damn the Man! I will not be told when to celebrate my love!" why not throw a Mardi Gras Party?
A few ideas:
Rock Some Cajun Cuisine
Louisiana has some amazing food. You could make a king cake (a circular cake served only during Mardi Gras that has a tiny toy baby hidden inside it) or some gumbo. Beignets (delicious donut-y desserts) are amazing. If all that's a bit heavy for you, here's a light version of Jambalaya. Or you can just crack open the first crawfish you see.Turn Up the Zydeco. Or Lil Wayne. Probably both
I loooove me some zydeco. Who doesn't love music played on washboards and accordions? You can listen to the zydeco channel on Pandora or even learn a few dance steps from this youtube video.
If you're not into zydeco, put together a play list of New Orleans rappers – Lil Wayne, Lil Romeo, Master P. You can even throw in a little Trent Reznor!
Toss Around Some Doubloons and Beads

Let's just be honest. Aren't we all pretty sure that Mardi Gras is about beads and boobs? Your party won't work unless you have plenty of necklaces to wing at your friends – whether you make them flash is your call. You can also up the ante with some
chocolate doubloons
. Cute!
Put on Your Mask and/or your Boobie T-shirt
Pick up some blank masks from your local craft store and let your friends go crazy with glitter and feather and glue guns, ala fourth grade. If you're not into showcasing your goodies, you can at least communicate the intention with one of these awesome (read: tacky and hilarious) bikini t-shirts.
Head Out To the Pub. (Or Hunker Down With a Movie)
For better or for worse, Mardi Gras often equates to ingesting large amounts of alcohol. So now that you've danced your ass off to some Weezy and you're wearing a mask, beads and a ridiculous t-shirt, why not pile into a cab with all of your friends and hit the town?
If that's not quite your speed, why not hunker down with some gumbo and watch one of many movies set in New Orleans?
Have you ever been to Mardi Gras? How will you be ringing in Valentine's Day?