One of my favorite things about traveling (or, umm, life in general) is stuffing my greedy little face with new delicious things.
I've been a vegetarian for 18 years
, so my international gastronomic experiments are usually a bit limited, but can we talk about some of the best ones? Good, I thought so.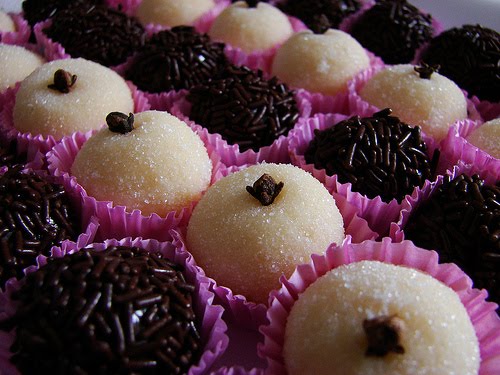 Brazil: Branquinhos
I'm prrrreeeettty sure 'branquinho' translates to "tiny white." Well, either that or "ball of mellow, melty goodness." I have fond memories of standing in a tiny Brazilian kitchen, rolling these into balls with my curly-haired host sisters.I can't find a recipe online but I suspect it goes like this "Mix together some sweetened condensed milk and butter. Cook. Drop spoonful of goopy delicious goodness into some sugar and roll into a ball. Promptly eat seven and make yourself sick while watching South American soap operas"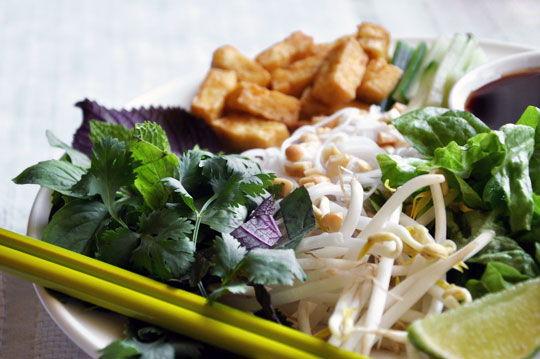 Vietnam: Bun ChayThe first time I ate this was in Hue, Vietnam when my friend and wandered off the proverbial beaten path and into a broken down bar along 'The Perfume River.' We sat in plastic chairs in the shade, drank frighteningly strong coffee and nibbled on this: a fantastic salad of cold rice noodles, bean sprouts, pickled jicama and carrots, peanut sauce and fried tofu.
My mouth is filling with saliva as I write that. Yuuummmmmmdroooollll. Here's a recipe for bun chay if you're keen to play along at home. Or, if you live in the Twin Cities, hit up Trieu Chau for the best Vietnamese this side of the Mekong.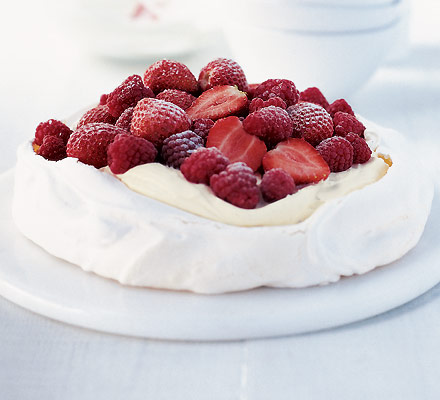 New Zealand: Pavlova
Light, sweet, kind of a pain to make. But who cares? I will very happily whip egg whites till my arm falls plum off if it means eating a slice of New Zealand's national dessert topped with whip cream and some passion fruit. Or some deliciously under ripe kiwis. Or strawberries. You can try your hand it at,
following this recipe
.
Taiwan: Stinky Tofu
When I first smelled the Stinky Tofu vendor outside of my apartment in Chung Li, I was fairly sure that a sewer had overflowed. Or that a dead body was about to be discovered. Or a dead body was about to be discovered in an overflowing sewer.
However! As bad as it smells, that's as good as it tastes. Fact. Don't let that wimpy Andrew Zimmerman tell you otherwise. I used to buy a carton of these fried tofu cubes topped with sri racha and pickled vegetables from a street vendor every day for dinner. That is, until my students started pointedly asking me what I'd been eating. Awkward.
If you're feeling adventurous, here's a recipe for stinky tofu that you can make yourself!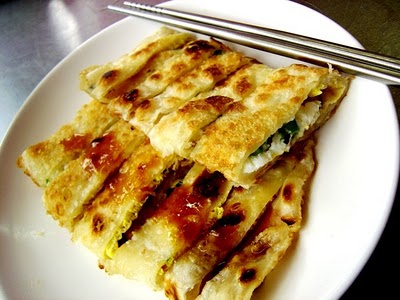 Taiwan: Dan Bing
It's only a matter of time till someone starts selling these amazing crepe/onion/egg/burrito hybrids and becomes a millionaire overnight. Imagine at an onion laced burrito (made with rice flour), a thin layer of scrambled egg, your choice of bacon, cheese or onions and an unidentified brown sauce.And now imagine that they cook it in front of you in 30 seconds and you can buy two, plus a latte for $1.50. And then you can eat it on your Hello Kitty scooter. Awesome, right?
This recipe
tells you how.
When I was teaching in Brazil, my daily walk to work passed by the world's most adorable bakery. Coffee and warm, cheesy, carb-y goodness became part of my daily routine. Finish class, eat three pao de queijo, sit on the balcony overlooking the park, drink a coffee that would keep me up long enough to make calls home late into the night. Lovely!I can't wait to try to make my own with
this recipe
.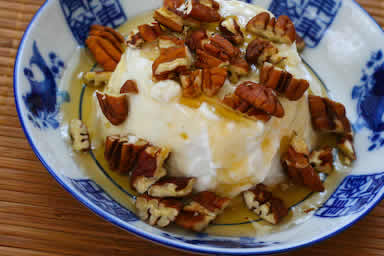 Greece: Greek Yogurt
I'm still not sure how I was able to leave Greece under my own leg power. I rather expected that someone would have to roll me over the border. So much amazing food around every corner.
Moussaka
! Various
tapenades
! Ouzo! 8 million different cheeses! My travel journal from my month in Greece mostly consists of detailed analysis of my meals. Well, that and my increasingly awesome tan.Greek Yogurt makes an amazing breakfast – and obviously no recipe required (Greek yogurt + fruit + honey + walnuts). For a long time I felt like it was too decedent for weekday breakfasting, but lately? I've been feeling decadent.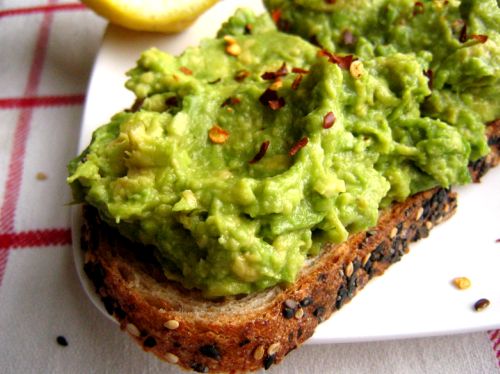 New Zealand: Avocado Toast
I am not exaggerating when I tell you that I have had four pieces of avocado toast already today. It's 3:22 pm as I'm typing this. Maybe this gives you an insight into the depth of my obsession with avo toast. Again, no recipe – just really good toast, plus mashed avocado (usually one fourth of an avocado per slice of bread) and a bit of salt.Of course, avocado is most perfectly paired with The Best Bread In The World, NZ's own
Vogel's
. But, if you're stateside,
English Muffin Toasting Bread
is a semi-decent stand in. So. good.
What treats have you discovered while traveling?