Did you guys know that I'm a total dork for design? Like a "ZOMG, is that an original
Eames
?!" caliber design dork? It's true.
I've been thinking about adding an occasional feature here on Yes and Yes called Yes Spaces – the apartments and homes of people that I know. Gorgeous, inspiring spaces that have not been curated by professional interior decorators and stuffed with $5,000 sofas. Rather, lovingly decorated apartments filled with thrift finds and IKEA purchases that were chosen by interesting, artisic non-professionals just like you and me.
Do you guys remember
my amazing friend Laura
? The one that built up
a burgeoning handbag empire
with a library book and a second hand sewing machine? Not surprisingly, her apartment is equally inspired, filled with one part (semi) high design and two parts Grandma's leftovers. Let's take a gander shall we? And try not to get too much drool on the big mid-century dining table, okay?
Where'd you get all the great bedding? And that headboard?!
The bedding is a collection that I've gathered over the years from TJ. Maxx, Ikea, and Pottery Barn. My mother and I often joke about our obsession with bedding, we both have extensive collections, and are fanatics about the quality of the textiles. Sleeping is serious business in my family. I highly recommend playing like the Europeans and purchasing a duvet with a duvet cover in lou of a top sheet and quilt.
I sewed together the pillowcases and with the help of my father constructed the burlap headboard using a piece of plywood, burlap, batting, a staple gun, and heavy- duty wire. The headboard is hung securely to the wall like a picture.
The leather bench and sisel rug are hand-me-downs from my grandmother.
*Side note: I find excellent deals for Pottery Barn bedding on Ebay, you can shop for unused sheets and duvet covers there.
How does one layer patterns without looking like the bed-equivilent of a bag lady?
In our old apartment we had an all blue bedroom, not my favorite, not my choice. So when we moved into the new place I wanted a bedroom that was colorful and vibrant, I almost painted the wall coral but balked at the last minute and went for a shade called Smoked Oyster. I think that my fiancé was relieved by the new selection.
Mixing patterns can be a little intimidating but really it is simple; 1) select a color story to work from it can be as many colors as you want. 2) Mix together large and small-scale prints. 3) Toss in a piece that seems unexpected and quirky, I chose the seashell print black and white pillowcases & the burlap headboard for texture.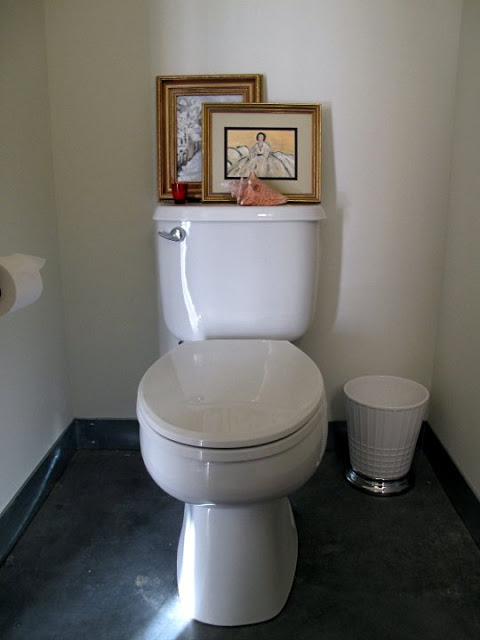 Tell us about these paintings and frames!
These paintings are the work of my Grandmother, I am lucky enough to have a small collection of 8, which depending on my mood I pair together in different ways. The frames are her selection for her work.
When grouping art, I lean towards pairing particular techniques or mediums together, rather than themes or colors. In either fashion of interior design I think it is better to mix than to match. Matching tends to look overworked and devoid of personality.
How cute is that lamp? Did you pay one million dollars for it?
Truth, I got those lamps for a steal of a deal at the old Macy's Flea Market. The lamps are by Nicolette Brunklaus , they are part of her Hidden Royalty series and retail for close to $300 each, I got them for $50 a piece! SCORE!! The rugs are from IKEA, and the woven twig basket with all the magazines is a hand-me-down from my grandmother.
What's the story with this mirror? Do you actively curate your bookshelves?
The frame was a $20 garage sale find from years ago. It's vintage, plastic, and the paint is chipping away but I thought that it was divine. Our bookshelf is an extension of my studio space as well as a landing area when you first walk in the door. It contains all of the books that I use to learn from & inspire me. My fiction books are sadly packed away in boxes or resting on my nightstand in a pile. I am a huge bookworm and could literally line the walls of our place with my book collection. There are 2 books that have been out on every bookshelf that I have had since I was under the age of 10. A hardcover copy of The Secret Garden and a destroyed paperback called Bicycle on the Beach, if you squint and cross your eyes you might be able to find them.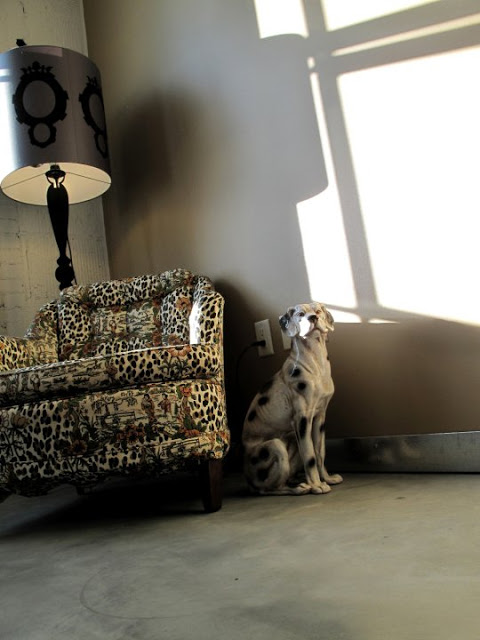 Where'd you get the sweet safari chair and guard dog?
My fiancé is not a fan of the chair and lamp, this is a perfect example of where are differing tastes collide. The chair is Hollywood Regency in style and is another Craigslist find. My tip on accent chairs is avoid the traps of mass market chains and search instead for a used chair with good bones. Don't be concerned with the fabric as you can always attempt to reupholster it later. You'll end up saving a ton of cash and adding personality to your space.
Spot, the dog, has been in my Grandparents house for decades and my Grandmother recently gifted it to me. When I was a little girl my family raced sled dogs so when I would visit my Grandparents in the city Spot would be my dog away from home. I use to kiss him in his black nose and pat his head!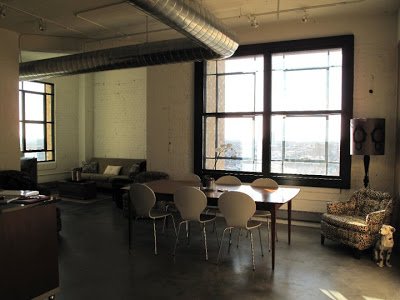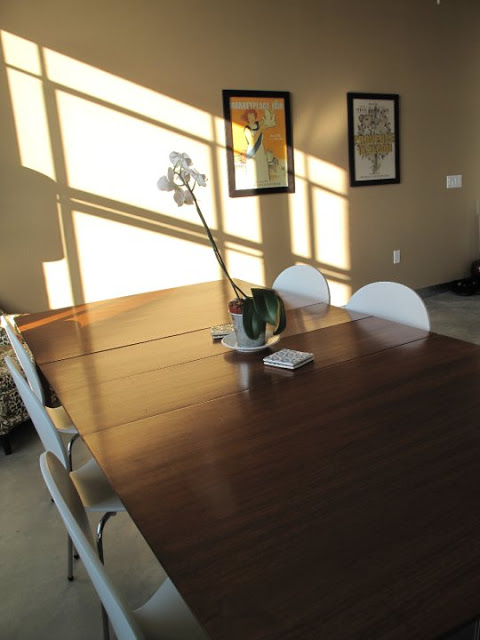 I'm very busy hating you for scoring this gorgeous table.
My fiancé found the table on Craigslist, he has a thing for Midcentury, specifically Danish teak design. While I like and appreciate Midcentury my taste is a little more eclectic – you might say that I am a junker. So when he brought home the table I was not in love. I couldn't decide if it was a gem or just a table. I worried that it read bargain basement rather than vintage find. He loved the table and part of being with someone is compromise so we kept it. I decided that the table needed some "styling" and opted to embrace the modern lines and theme of it with acrylic white chairs from Target. Guess what? I LOVE the table and chairs it is one of my favorite pieces in our space.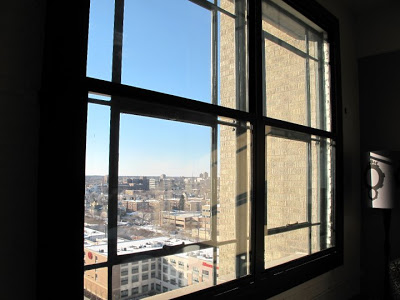 And now I'm busy hating you for having this view. I know you used to live in a smaller place in Uptown. Why'd you move here?
We made the move to because I needed more space for NELLE, my accessory design company. Finding a place, with the space we needed, that was in our budget was quite a challenge. Lucky for us some condos that were originally built to be sold became available for rent and happened to be in our budget.
The neighborhood we live in is in a wonderfully diverse section of Minneapolis called Midtown. We live above Midtown Global Market, which houses a bevy of restaurants, shops, and food stands all owned and operated by people of different cultural backgrounds. It is a global bazaar of culinary delights and on any given day we can enjoy cuisine from all parts of the globe.
Thanks so much for showing us around, Laura! Any questions for her, you guys?