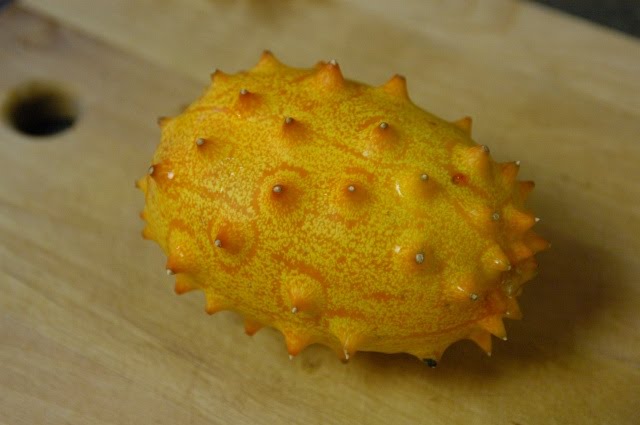 When one pays five dollars for a piece of fruit, one can be excused for having some rather high expectations, right? But I knew that things weren't necessarily going to go well when the cashier couldn't identify said fruit and spent five minutes paging through what appeared to be a 2-inch-thick Fruit and Veg picture dictionary.I trundled my prickly little piece of goodness home and plunked it in my decorative fruit bowl, in an attempt to my kitchen look like a Gourmet magazine photo shoot and give the apples an inferiority complex. After a few days of admiring my horned melon, I finally worked up the nerve to slice into it and have a nibble.
Findings? A loud and resounding 'meh.'
Imagine a cross between a cucumber and a deeply mediocre kiwi fruit. Refreshing, pulpy, seedy and slightly sour. Sure, it's looks like the Bjork of the produce aisle but it tastes more like Sarah McLachlan. Or at least what I imagine her fruit counterpart would taste like.
For five stinking dollars I want mouth-gasms! I want previously untasted flavors! I want something that doesn't taste like a cucumber dressed in lemon juice!
Fruit that is worth five dollars you say?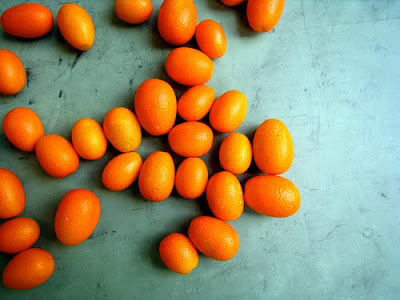 Kumquats
A million dollars? Yes. But they're like little tiny grape oranges! This is how you eat them: dipped in dark chocolate ganache (read: chocolate chips that you melt with evaporated milk). Eat them whole, skins and seeds and all. Soooo goood.
Lychees
Okay, these are just kind of good. They have the texture of olives and somehow manage to taste like canned fruit despite being fresh. However! They're gorgeous and fun to pick apart. Put a big bowl of them on the patio table and pick at them with your girlfriends while drinking wine.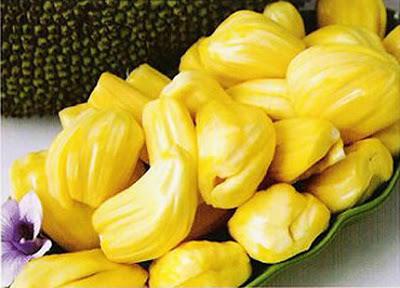 Jackfruit
I became addicted to jackfruit while backpacking through Thailand. Despite looking like a flower, it tastes like bubble gum. Truly! If Willy Wonka invented a fruit, this would be it.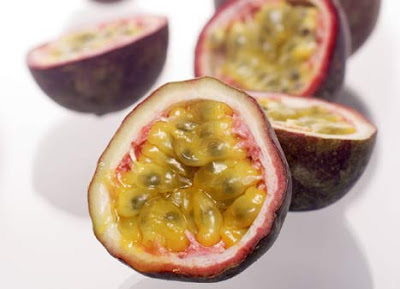 Passion fruit
Would you judge me if I told you that passion fruit is best consumed with a bit of sugar and a shot of vodka? Like, cut open the hard outer shell, stir the pulp to loosen it from the sides, add a teaspoon of sugar and a shot of vodka and glug the mixture right out of the shell? Yum!Or I guess you could add it to yogurt or top ice cream with it. If you're into that.
Other fruit that is not worth five dollars? (in my humble opinion)
* durian fruit (smells like stale vomit)
* custard apples (hard, white, big seeds)
* asian pears (you bore me)
* dragon fruit (so pretty! so exotic! so bland!)
Have you ever tried a horned melon? What strange fruit or vegetables do you like?