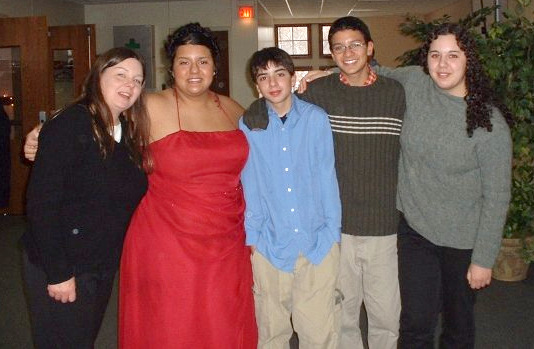 Tell us about your family.
Growing up, my family (as I will always remember it) was me, my mom, my sister, Monica, and my brothers, Jon and David. We were incredibly close growing up. Our agape love has to be attributed to my mom. My parents divorced when I was 8, and we had to rely on the child support from our alcoholic father for our living.
Mom wasn't able to work because as a child she caught pneumonia which destroyed her heart. Therefore, she was able to stay home with us when we were growing up.We weren't oblivious to that fact of our severely limited our household income and the stress that causes for a single mom raising 4 children. But mom made it okay, always ready to raise our spirits, always ready for a laugh, and when summer came, always ready for our next camping adventure.
Other people came and left our little family (namely, her second husband) but it will forever be the 5 of us that I think of as family. Mom died suddenly on July 1, 2004. She was riding a motorcycle with her husband. A blood clot traveled to her lung which killed her instantly.
How old were you when you took over the care of your brothers?
My husband, Nate, and I were married in July of 2005. We had 8 months as newlyweds and then we took over guardianship of my two brothers. We were 22. They had bounced around from house to house between the time mom died and when we took them.
When they finally came to us, my brothers were 15 and 14. This meant that we had to move from our tiny apartment, enroll them in new schools before the next school year, figure out transportation for our jobs and make sure they had something to eat everyday that wasn't pizza.
Can you tell us what an average day in the life of a sister/mom?
The sister part is easy, especially now that they can walk and talk and hold intelligent, (frequently) funny conversations. I love sitting on the couch with them late at night, watching TV or playing Mario Kart and just talking.
The summer before my senior year of high school, my mom remarried and I was purposely shut out of my family. I felt like I had lost several years with my brothers and sister. Now, I feel like I have been able to regain some of that lost time.
The mom part is frequently the 'ish'-factor. It's hard to tell the difference between "reminding" and "nagging". My brothers are consistently absent minded (or are all teenagers that way? Was I that way?) and my husband and I have to stay on top of them to get stuff done. This is true with everything – homework, school activities, and work.
Take college for example: I had forgotten how many deadlines there are for applications and payments and everything. We face a hard decision: do we allow them figure it out themselves and if they don't make it, sorry Charlie?
Or do we help them to ensure that they make it into school but become the worst case of helicopter parent that I never wanted to be? I am discovering that it is a fine line. We want to make sure that they don't feel abandoned or that we are controlling their lives.
My husband and I actually argue about this frequently – when he thinks I am being to manage-y, I think he is being indifferent and vice versa. Maybe that is a good indication that we are middle of the road?
What surprised you the most about raising your brothers?
How much I would care. Growing up they were just my brothers (yuck) but now I want so much more for them. I want them to be able to think and make responsible, equitable decisions.
I want them to be liked and esteemed by their peers. I want them to have friends. I want them to be independent. I want them to be able to fight their own battles. I want them to have what they need to accomplish their dreams. Is this what regular parents feel?
What have been the biggest challenges? And the biggest rewards?
After mom died, they lived with our step-father but that situation spiraled into physical abuse and they had to leave (duh). My aunt took them in, but then kicked them out which accumulated about 1 1/2 years being transported from house to house and school to school. They undoubtedly felt unwanted and insecure.
A few months ago, I yelled at Jon about something that is now stupid and trivial. But his angry reaction, which I found out later, stemmed from his feeling of homelessness and that for most of his formative years he has lived out of a suitcase. I cried when he told me this; after my mom remarried and I went to college, my stepfather threw out or sold all of my belongings that I didn't take with me to college and made sure I knew I wasn't welcome at home.
I want them to have the feeling of stability so they can take risks in their lives and know that we are here to support them and have a place for them to stay if they return from that overseas volunteer program (or job, or internship opportunity) and need a place to get back on their feet.
Another challenge: getting off the couch to get stuff done. I know that sounds lazy, but sometimes I just don't want to drive you to work. Or pick up your homework that you forgot at your friends' house. Or wake up at 5:30am to fish out $8 from my purse so you can go on your field trip. Okay, I am done whining now.
However, in a small way, it is all worth it when they solve a problem or exceed what they think they can accomplish. We are the first people they share it with. I would be lying if I said that that made it totally worth it.
But for a glimmer of a moment it is like a balloon of happiness inside me and I feel pride for them and affirmation that we are doing the right thing.
Has raising your brothers affected your thoughts on having children yourself?
Before raising my brothers, or even before marriage, I wanted to have lots of kids. I liked growing up with 3 siblings and I thought that if I was going to have any kids, I would want at least that number.
Now, I don't want any kids. Not because my brothers ruined the experience for me. But do I really want to do another "Don't Do Drugs" talk in 15 years? I don't really want to visit any more colleges or drive someone all over the universe trying to find the perfect (and least expensive) pair of -30F graded boots for this year's Winter Wonderland Boundary Waters excursion.
But most of all, I just want to be responsible for me. I know (really, I know) how selfish that sounds and it makes me kind of embarrassed to say it, but it is what it is. We are heading into our empty nest period and I'm ready to go on a 55+ cruise vacation.
Were any of you raised by people other than your parents? Any questions for Jess?