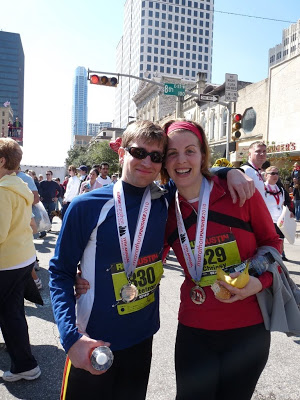 This is part of our True Story interview series, in which we talk to interesting, amazing people about things that they've done. Today we talk to Chrissy, of the awesome blog
The New Me
about her experience running 26 miles in one day without dying!
What made you decide to run a marathon?

Two years ago, when crafting my New Years Resolutions (an activity I take very seriously) I decided that running a 5K would be on the list. I used
the Couch to 5K plan
and three months later, I was able to cross that goal off my list. I kept up with running on and off over the next few months, but it wasn't as fun without something to aim for. I am a person who thrives on PLANS and GOALS and LISTS, so I considered training for a 10K or a half marathon. I thought a full marathon would be overdoing it – marathons were for crazy people, real athletes. I would never be able to run 26.2 miles!But the second I decided it was impossible, I couldn't stop thinking about it. Thousands of people train and run marathons every year. If they could it, so could I. And if I could run a marathon, well – I could do anything!
Prior to training for this, what was your approach to fitness?
In high school, my friends played volleyball while I helped edit the literary magazine. I didn't like competitive sports – the pressure made me sick to my stomach. On the other hand, I've always been casually active – I ride my bicycle everywhere, I love to walk my dog, I enjoy hiking, rock climbing and I was (and still am) into yoga. I even played roller derby for two years (which is when I started to get comfortable with competition) but I had never before trained for anything as specific – or big! – as a marathon.
How long did you train for the marathon? What did you do?
I trained for 8 months. I found two free training plans online – one for a half marathon and one for a full – and completed them back to back. My boyfriend decided to run the marathon as well, but he's a much faster runner than I am so while we started runs together, we usually split up after the first few miles. I did a lot of running by myself, which was sometimes awesome (time to think, meditate, brainstorm, keep my own pace) and sometimes a total drag (long, lonely, and no one to motivate me).
While in training mode, I ran about 20-30 miles a week. During the week, I woke up at 6am and ran anywhere from 3 to 10 miles before I had to be at work at 8. Sundays were my long run day, and I just kept adding miles – 15, 16, 18. 20 was the longest distance I had to run during my training, which made me nervous, but everything I read said that was normal so I went with it. I also logged all my runs and made friends on dailymile which is a social networking site for runners, cyclists and swimmers. I learned a lot from the folks who posted there and seeing my miles pile up each week was a huge motivator!
Tell us about the running the marathon. Did you really see guys with bloody nipples? Did you throw glasses of water over your head?
I LOVED the marathon. I ran the Austin Marathon this past February and it was just as huge and awesome as I'd hoped. I did not see anybody with bloody nipples, but I did see many volunteers handing out sticks of Vaseline for chafers. In addition to the official volunteers and aid stations, there were a lot of unofficial people passing out things – animal crackers, mimosas, beer. Very tempting! The best part was that my name was printed on my bib and as I ran by, everyone was saying, "You can do it Chrissy! Looking good!"
Was there ever a point in the race when you thought you couldn't continue? How'd you push through it?
At about mile 16 I started to hit the wall. I got excited and ran the first half too fast – classic rookie mistake! – and all I could think about was lying in the grass, taking a nap, and never ever running again. Just then, a girl caught up to me. She asked me how I was doing and I grunted something unintelligible. "Can you believe it?" she said. "Only ten miles left! See you at the finish line."
And then she pulled ahead and disappeared.
At first I considered chasing her and strangling her, but then I realized that she was right. I was more than half way there. I'd run plenty of ten milers – often before work! Looking at it from a fresh angle helped and it was the push I needed to keep going. At another point I passed a man in his front yard who was blasting different songs as people ran by. When I approached, he played "Eye of the Tiger," which is only the most awesome song, ever. I'll admit it – I cried as I ran by him, my first pumping in the air. It was probably the best moment of my race. I didn't have a finishing time in mind for the marathon – I just wanted to finish, period – but I did make it my goal to have fun, enjoy myself, and smile as much as possible. I finished the marathon in 4 hours and 43 minutes, and I can't wait to do my next one. Mission accomplished!
Any recommendations for other people training for a marathon?
Pick a marathon that's still a long ways off – 6 months to a year – and sign up as early as possible. Then train, train, train. Find a plan that works for you and take it slowly – especially if you're a beginner. It's really easy to get overzealous and injure yourself early on. Be flexible and forgiving. Life happens, even while you're marathon training, and you have to be able to shift your priorities. Sometimes running will come first, and sometimes it will come last. Three weeks before the marathon I got bronchitis and I could barely breathe, let alone run. And as much as I wanted to run, I knew I had to scale back and let my body heal. Most of all, know that if I can run a marathon, anyone can. Nothing is impossible!
Have any of you run marathons? Any questions for Chrissy?