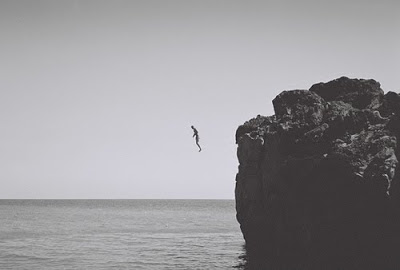 Someone who doesn't know me particularly well recently accused me of being fearless. While I was deeply, deeply flattered (I may have blushed and patted his arm saying "Oh, youuuu!") I assured him that he was laughably wrong.While I'm not afraid of public speaking, singing karaoke in front of drunken crowds, dancing on tables or traveling through developing countries by myself, I am afraid of the following things:
1) parties full of fancy strangers I don't know
2) sitting at a bar by myself and getting hit on
3) making a fool of myself in front of people I respect
4) water snakes. puuuuuuke.
While three out of those four aren't deadly (numbers 1, 2 and 4 if you're keeping track) I'd rather chew off my own arm than deal with any of the above. They make me really, really uncomfortable.
Now. I know that getting past hang-ups numero one and two would probably be beneficial to my personal and professional lives. And I can, if need be, fake my way through both of those situations with (what what I hope to be) a passable level of competence. But deep in my heart? I'm squirming with discomfort and wishing I was home, stirring a pot of soup and listening to Lily Allen.
My question to you, friends, is when do we acknowledge to ourselves that certain situations and skills sets are just not our bag? And when do we push ourselves out of our comfort zone because we know it's good for us? What constitutes "good for us"? How many times do you try something before you admit that you just really, really hate it, regardless of how healthy/impressive/socially acceptable it is?
For an example, let's look at dancing. Personally? I looooove dancing. I will dance, with one friend, on an empty dance floor, surrounded by tables of gawkers, while I'm completely sober. However! I know many, many people who would rather have their toenails plucked out than dance in public.
Various studies show that we perceive good dancers as being more outgoing, more fit and more sexy than their non-dancing counterparts. So, it would follow that forcing yourself to become comfortable with dancing would be socially and personally beneficial. But what if you just really don't like dancing? At what point do you stop trying to step and clap in time to the music and just lean against the wall?
Where is the line between comfort zone and I-hate-this space? What makes you uncomfortable? When do you push through it and when do you throw in the towel?