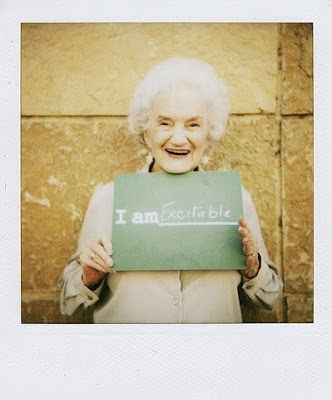 Have I ever regaled you guys with tales of Grandma Von? If I was to summarize her in list form, it'd go something like this:* she quit high school to help raise her gajillion siblings
* she can make a four-star meal out of a shoe, a cup of flour, an egg and one carrot
* she's traveled the world
* this dress I'm currently wearing (at age 30) she made, and wore, to my parent's wedding (at age 50 something)
* she's 89, still lives in her house – alone – and recently announced that she'll be celebrating her 90th birthday with four (!) parties.
Grandma. Come on now.
That lady has got some chops. And it recently occurred to me that, while I'm a pretty accomplished lady, I can't even begin to do some of the stuff that she can do. Things like:
Sock Darning
Why is this so oddly hard? I've tried to just sew the hole shut but then I just end up with a hard little nubbin of thread and knotted up sock fabric rubbing between my toes. Sock, you have just be relegated to dusting. Maybe I should watch
this video tutorial
.
Canning
If I have extra produce, I freeze it. And I'm prrreeeeetttty impressed by my ability to put things in Tupperware and put it in the freezer. Home Ec. really intimidated me with all that talk of sterilizing jars and getting E. coli. But my grandma has an entire pantry lined with those gorgeous blue jars filled with pickles and tomato sauce.
Here's how she does it.
Write in Beautiful Longhand Cursive
I rocked the cursive really, really hard in fourth grade. Those capitol Gs? Gorgeous. But these days, I print everything or type things out. I never thought I'd see the day when I could type faster than I could write! Once a month I get a sweet note from one of my grandmas written in blue ink pen, full of gorgeous loops.
Embroidery
Being as deeply anal retentive as I am, it seems that I'd excel at this tiny, exacting needle-pointery. But I suck. Or rather, I wasn't immediately good at it, and hence, quit. My grandma gave me three adorable, embroidered dish towels featuring a kitteh couple in various stages of cuddlery for Christmas. Awesome!
Pin Curls
I just recently started blow drying my hair on a regular basis, so making your hair cute? with just bobby pins? I totally don't get it. Though to be fair, I can't really work a curling iron or hot rollers either. I should probably follow these instructions.
What do you wish your grandma would teach you? Have you mastered any of these (nearly) lost arts?