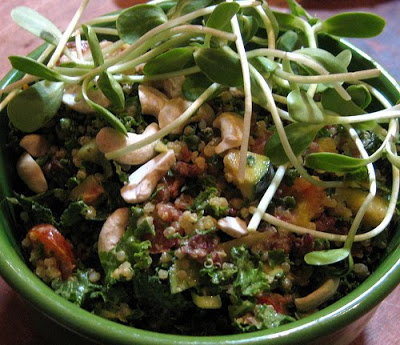 The most intimdating activity lurking in my
'31 New Things'
list is not, as you might expect, taking a stripper-cize or trapeze class (though I can't really walk in heels and I'm not particularly coordinated).I'm rather afraid of attempting an all-raw diet for two weeks.
My love affair with cheese has been well documented and few things comfort me more than a plate full of processed carbohydrates. But I do enjoy a challenge. And I suspect that I would also enjoy the glowing skin and super-human amounts of energy that allegedly accompany this diet. So why not, right?
Next week, I'm going to start eating two raw meals a day and midway through June I'm going to attempt (attempt, I tell you!) two full weeks of raw-ery. Hopefully this will go better than when I tried to go vegan and just ended up eating noodles with margarine all.the.time.
Have any of you tried the all-raw diet? Any advice or easy recipes? Do I really need to buy a dehydrator and a food processor? Are all my friends going to stop inviting me over for dinner because I'll bring salad after salad after salad?