Casey is one of our bi-weekly Real Life Style Icons – gorgeous ladies who craft amazing outfits without breaking the bank.
Name:
Casey
Age:
25
Location:
Currently the beautiful Sunshine State (Florida)!
Online haunts:
elegantmusings.com
(blog)
my flickr
,
my tumblr
Three reasons you're awesome:
I have to admit, I don't think I'm terribly awesome, but here's what I could scrape up!1. My mom taught me to thrift at a very young age! So I've been hitting up the thrift stores since I was a young kid (age 7-ish?). I love doing it for the environmental aspect (recycling old clothes=yay!), and to stay within my clothing budget.
2. I live to be creative! Knitting, sewing, drawing, graphic design, interior decorating… I love incorporating creativity into my daily life.
3. Not directly me, but I feel blessed to have had some amazing family and friends who have encouraged me in my life! If that isn't awesome, I don't know what is!
How did you dress as a kid?
My nickname as a toddler was "Little Miss Fashion" if that gives you any idea! I loved and admired artsy/theatrical clothes as a kid, and had a definite sense of style (jean jackets and cool sunglasses!). But, unfortunately that got left behind for jeans and t-shirts as a pre-teen, and then pretty dowdy skirts and dresses as a shy teenager trying to just hide and not be noticed. I think, however, my best childhood fashion memories involved dressing up (poufy, polka dot dresses a la late 80s!)–I loved to dress up, even as a kid! Some things never change…When did you become interested in fashion?
I can't remember a time I wasn't interested in fashion! Some of my earliest memories are of checking books out of the public library on fashion history–especially ones that were multi-decade, so I could look at as many pictures of various styles (and then copy them in my drawings). It just kind of wildly took off from there–I couldn't seem to find enough books to feed my interest! I'd say by the time I was in my early teens I knew for sure that fashion would be something I'd most likely be interested in the rest of my life.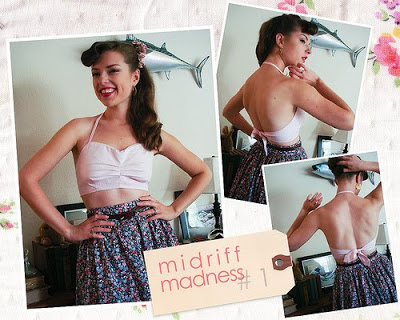 Where do you find style inspiration?
Not to be horribly cliche, but everywhere! These days it's mainly the internet though. I used to read a lot of fashion/lifestyle magazines before I decided that I hated feeling like they catered to a demographic I wasn't and would never be. So I turned to blogs run by other gals who were creative, and gather most of my inspiration from there!I especially love stylish gals who incorporate vintage and/or thrifted finds into their outfits. Old movies from the 1930s through early 60s are a constant source of ideas (lately I've been on an early 30s musicals and pre-code kick!). Looking at old photographs (I collect vintage snapshots I find at antique stores for inspiration) and vintage magazines is another source of feeding the inspiration stream.
I also love art, and even things like paintings/media design can give me ideas. I'm really visual (I learn best by seeing), so anything that has lots of images tends to get my interest and inspire me! Oh, and how could I ever not mention music? I listen to a wide variety of genres (right now Karen Elson's new album is on heavy rotation), and they really influence my mood, which in turn dictates what I choose style-wise for the day!
Where are your favorite places to shop?
Thrift stores, hands down. Sure, it's not as convenient as walking into a department store, but I like the thrill of the hunt and never knowing what treasure may cross my path! I tend to stick to small, local charity-run shops, as those tend to have the best stuff. I also adore (but can't afford) Anthropologie, which I visit at least once a month to drool over/covet the clothes and gather ideas for my own wardrobe and refashions! Do fabric stores count too? I spend an awful lot of time there!
Could you tell us your top three style tricks/DIYs?
1. A necklace can always make a great bracelet! I like to rethink how to use my jewelry, and this is one of my favorite ways to switch things up: I just wrap the necklace (usually something chunky or a chain) around my wrist and clip it, or use a brooch to secure the ends. Easy and free!2. Dresses can make quick changes into a skirt with a little reworking. Dowdy dresses seem to breed on thrift store racks, but sometimes the fabric is too pretty to pass up! Those less than flattering (or just the wrong size) ones come home with me–particularly on 1/2 off days–and get remade into skirts. I just cut them off at the waistline, shorten the length, and use the leftover material to make a new waistband. Easy, cheap and a great way to recycle.
3. Belts are a wonderful thing to pull an outfit together. I have a rather large-ish collection of belts (again, mostly thrifted) that I constantly use to add cohesion to an outfit. Sometimes it just looks like an outfit "needs" something, and nine times out of ten, a belt does the trick! I keep a wide array of colors, widths and styles on hand to work a variety of looks.
Lovely! Any questions for Casey?