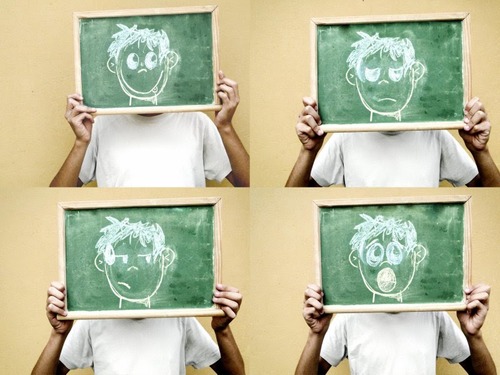 This is one of my True Story interviews in which we talk to people who have experienced interesting/challenging/amazing things. This is the story of
Angela
, a lovely wife and mother who struggled with bi-polar disorder.Can you tell us a bit about your background?
I grew up in a small town on the coast of Washington State. My parents divorced when I was 6 and my older sister and I went to live with our mom. Things were tough because my mom has bipolar disorder. She was diagnosed after a suicide attempt when I was 9. She rejected her diagnosis and didn't stay on the Lithium they prescribed her. Her side of the family is riddled with addiction, alcoholism, depression, anxiety, and bipolar disorder. I knew my dad had serious anger issues, but I mostly chalked it up to his rough childhood. He's admitted to me that he may be bipolar, but he was never diagnosed. His side of the family also has a long history of alcoholism, depression, and bipolar disorder.
For those of us who don't know, could you tell us a bit about bipolar disorder?
Bipolar disorder is a mood disorder, like major depression, but mania is involved. There is full-blown mania, which is characterized by irritability, bouts of rage, racing thoughts, and in severe cases, psychosis (you stop feeling "crazy" and start acting "crazy"). There is also hypomania, which is marked by increased levels of energy, poor judgment, delusions, grandiosity, euphoria, and feelings of being "special" or "chosen." Bipolar disorder is heritable through genetics, but also the actual brain structure of a bipolar person is different from a typical person's. Bipolar disorder is a physical disease that can be terminal without proper treatment, like cancer or diabetes.
What are some of the most common misconceptions about bipolar disorder?
The most common one is that bipolar disorder makes you artistic/creative. There have been some parallels drawn between some artists and bipolar disorder, but they could be coincidental. Because of this misconception, a new trend is growing: some people want to be bipolar. This disturbs and offends me. This misconception is akin to saying something like, "Being African-American makes you good at sports." One of the most damaging misconceptions about bipolar disorder is that getting treatment makes you feel emotionally numb. If medications make you feel emotionally numb, you're on the wrong medications, or the wrong doses. Discuss this with your psychiatrist.
How old were you when you realized that you experienced life and emotions different than other people?
When I was diagnosed and looking back at my life. For instance, when I was in kindergarten, my teacher had two favorite students, and would always tell them how sweet and smart they were. I remember consciously thinking, "Those kids think they're so smart, but the things they know aren't important things. The things I know are important, and I'll show them when I grow up." I was delusional. Sadly, I continued to feel this way until I was diagnosed. I really thought I was destined for amazing things, even after being a teenage mom, having 3 kids with 3 different dads, not continuing my education, working at Wal-Mart, and making all kinds of bad choices (I have some horrible tattoos).
How old were you when you were diagnosed?
I was diagnosed when I was 24. January 20, 2004. I'd been married for 2 years. Our sons were 4 and 2, and our daughter was 3 months old. After I had our daughter, I started experiencing uncontrollable bouts of rage. I was scary, destructive, and felt capable of inflicting great harm. One day, my husband accidentally startled me. I exploded and said the most vicious things. My mind was screaming, "STOP! YOU CAN NEVER UNSAY THESE THINGS!" yet I didn't stop until I was completely empty. That was the moment I decided to get help.
My objective was to enroll in anger management. I know that anger management is usually reserved for those compelled by a court of law, but I was desperate. I went to my appointment, and was asked a series of oddly-specific questions. I felt like we were getting somewhere…I was actually excited. I say that only to say this: some people read about bipolar disorder, and are prepared for/expect their diagnosis, whereas I had no fucking clue that there was something seriously amiss. I left that office with a prescription for Lithium, and a diagnosis of bipolar disorder type 1.
What sort of treatments where you prescribed? How did those treatments effect you?
I started seeing a counselor weekly, and I started taking Lithium. I had a lot of side effects: nausea, tremors, headaches–and most strangely–my teeth felt loose. I don't know if it wasn't working or if my expectations were too high, but I felt the side effects of the Lithium outweighed the benefits.
I did something that is very classic of a bipolar person: I went off my medication. Two months later, I became depressed. My priorities were ordered: sleep, kids, husband, hiding my filthy house, work, personal hygiene. I had a breakdown in March 2004, and landed in the psych ward. I tried a bunch of medications for a few months, but I was losing my cognition. At times, I couldn't remember how old I was. I decided to try to control my bipolar med-free . I'd still see my therapist. I found out at my next appointment, however, that if I didn't take my medication, my therapist wouldn't see me. I went my own way.
How did you manage after you stopped treatment?
After I ended treatment in June 2004, I became increasingly manic and was having hallucinations. I was not at all alarmed by these things–that, my friends, is a bad sign. I was totally delusional. I quit my job and was paranoid that my husband was going to leave me and take the kids. I couldn't turn my mind off, so I stopped sleeping. I had disturbing thoughts that played in a horrific loop; things like slamming my fingers in car doors or putting screws in my mouth and chewing on them, breaking all my teeth. I stopped cooking, cleaning, and bathing. I had zero impulse control and went on online shopping sprees. Occasionally, the psychosis was interrupted by moments of clarity, and during one such moment, I realized I was no mom to my kids; no wife to my husband. I was a burden and I couldn't do that to them anymore. I was almost lost. I was hospitalized for 2 weeks. I vowed never to get off my meds again.
How does being bi-polar effect your life on a daily basis?
Honestly, because I'm on the right medications and the right doses for me, bipolar disorder doesn't affect my daily life much. And if you didn't know me before, the fact that I suffer from a severe mental illness would never cross your mind. People who see me everyday are going to read this and think, "Wha…?" because I'm a mild-mannered, doting mom and wife of 8 years, who works with kids and lives a totally average suburban life.
What advice would you give to someone who thinks they might be bi polar?
Please see a mental health professional. If you don't have insurance, many mental facilities have sliding-scale fees or grants they use specifically to provide you with therapy and medications for free. Diagnosis can be helpful in the event that you have a major mood episode. You will have a place where people "know" you so you can get help immediately. Also, it's good to know the name of your problem. You will be taken more seriously by doctors and other people with Bipolar Disorder if you get an official diagnosis, opposed to self-diagnosis.
And what advice would you give to those of us interacting with a friend or family member that is bi polar?
I asked my loving husband to help me with this one. I hope you don't mind. Aaron says, "The number one thing you need to do is educate yourself on bipolar disorder; read everything you can find. The number two thing is be able to communicate. This doesn't mean just be able to talk and listen. This means be able to talk about and listen to some really horrible shit. Other than that, be patient. A lot of the time, I can see Ang's cycles before she can, but if I say something, it never goes over well (until she sees it for herself). Don't let them use their disease as an excuse. Be willing to shoulder the load, because they're not always going to be able to. Don't give up on them."
Have any of you struggled with bi-polar disorder? Any questions for Angela?