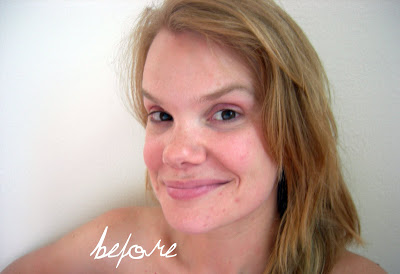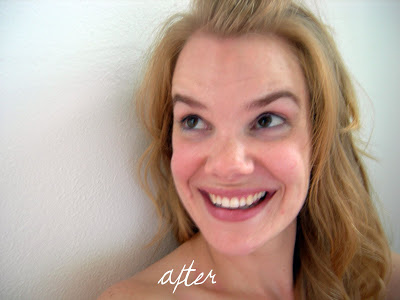 Yeah, that's right. I just put photos of myself sans makeup on the internet. What's next? Writing
a haiku about getting a brazilian
? Going to
a scientology church
?Now, I'm not a particularly high-maintenence lady (
I slept in a barn in Bolivia once
. And can
pack for a weekend away using only my purse
) but
I'm oddly attached to my makeup
. I'm quite fair with blond eyelashes and eyebrows, with little to no natural color to my lips or cheeks.
Without some mascara or lipstick, I look ill. For real. A professor once stopped class to ask me if I was sick, or going to faint.
No, no Professor Gremmels. I just didn't have time to put on eyeliner for your 8 am class.
But when I travel, I usually can't be bothered to do anything other than apply sunscreen and put my hair in a ponytail. Which is super comfortable but results in photos that should have captions like "Zombie in front of the Berlin Wall." "Undead girl at Angkor Wat."
What's a girl to do? Get her eyebrows and eyelashes dyed, that's what!
I decided that for something involving chemicals in the vacinity of my eyes, I'd forgo my usual super cheap salon and head to someplace a bit more upscale. Enter Phresh Spa Salon. So cute! So lovely! Staffed by kind, non-intimidating women who don't make you feel ridiculous for coming to a spa appointment in flip flops!
The actual process took all of fifteen minutes and was completely painless. I wear contacts, so I'm contantly sticking things in my eyes and I wasn't phased by a q-tip with vaseline rubbed around my eyelids. We let everything sit for a few minutes, chatted about the merits of sundresses with built in bras and then wiped all the dye off. The wiping bit was slightly stingy, but nothing that a drop of Visine didn't fix.
I'm totally thrilled with the results – I feel like I want to grab strangers and be all "Do you think I'm wearing make up? Do you? Huh? Because I'm not! But it looks like I am!" The dye is supposed to last for 4 – 6 weeks – how awesome is that? A month+ of not wearing makeup while simultaneously not looking like the undead! For $40? Hellz yes.
Would you ever dye your eyelashes or eyebrows? How do you feel about going without makeup?
* Phresh was nice enough to comp my services, but I'd recommend them (and this service) regardless. I wouldn't steer you wrong, yo!