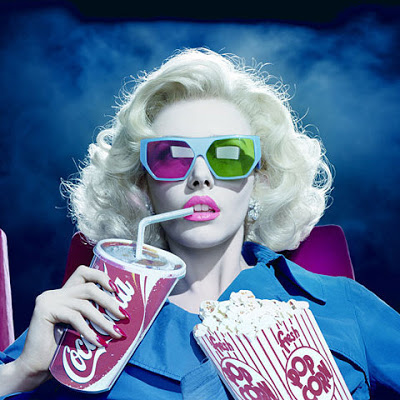 Was I expecting too much when I thought that 3D movies would change my life? That my life would be divided into "Before 3D" and "After 3D"? And was I out of line to expect that this life changing experience would come via
Cats and Dogs: The Revenge of Kitty Galore
?
I think those were pretty fair expectations for a movie starring a hairless cat with the voice of Better Midler.So on a rainy Saturday afternoon, I managed to convince the BFF to accompany me to a matinee of this gem. I sat down with a giant Diet Coke and prepared to have my world rocked.
But my world was not rocked. I mean, it was nudged maybe. But at no point did I have to put my hands in front of my face, nor did I attempt to grab something out of the air. There was laughter and there was cooing but there was no air-grabbing.
Regardless, I think we can all agree that any movie that features Kenneth from 30 Rock holding a hairless cat in a bunny costume is worth the price of admission.
Have you ever seen a 3D movie? And more importantly, have you seen Cats and Dogs?