Did you guys love peering into those creative spaces as much as I did? I think it's fascinating to see how artistic types organize their spaces.Though I certainly don't consider myself a capitol W 'Writer' (I've just recently started to tell people that I have a blog without blushing and looking at the floor)
I do have a tiny, tiny office devoted to Yes and Yes. And by "office" I mean "one third of the living room that my landlord inexplicably divided so he could list my apartment as a "One Bdrm + Den.") But never mind! I love my tiny writing space! Virginia Woolf wasn't joking around when she said that a woman needs a room of her own.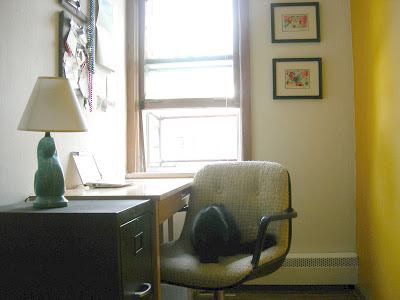 Chair: Salvation Army $5
Desk: Salvation Army $20
File cabinet: Salvation Army $5, spray painted with "hammered
silver special effects"
Prints: Etsy, gift from The BFF
Lamp: Tiny thrift store in Wisconsin
Cat: Land of Awesome $Priceless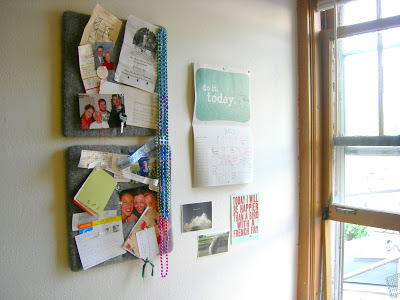 My corkboard full of joy! Also, funny photos of smiling pigs.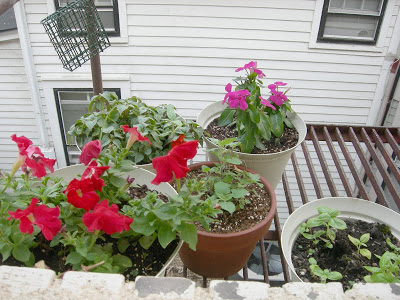 My little fire escape garden.
Putin is afraid to sit on the actual fire escape but he will
very happily sit in a flower pot, munch on that catnip
plant and get totally stoned.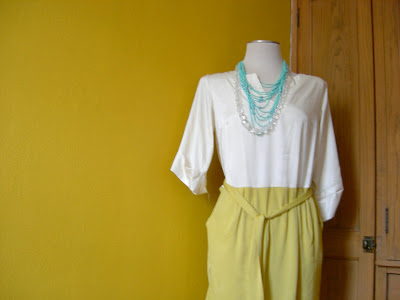 Mannequin: Store display shop in Minneapolis
Dress: F21, via Salvation Army.
I frequent my particular Salvation Army so often, the clerk actually
put this dress aside for me because she knew I'd like it!
So that's my wee little office. Let's look at some people who have
got a bit more to work with!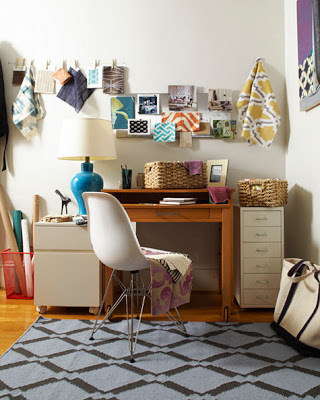 I love those tiny clothes pins!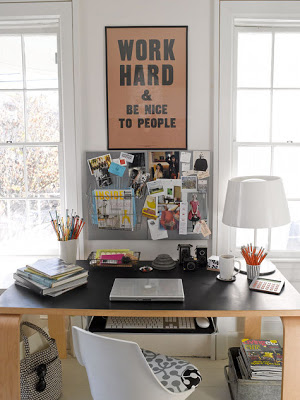 I think that poster encapsulates the secret of success. Really.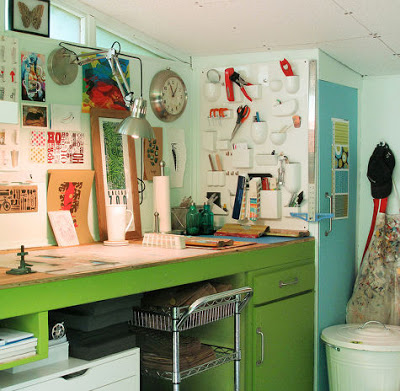 Green desk = yes.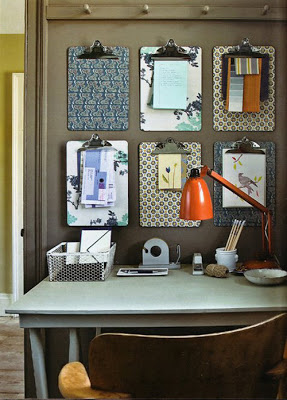 What a clever use for clip boards!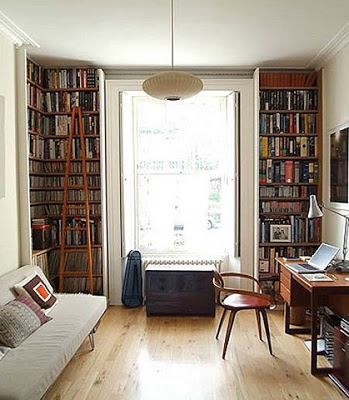 Having enough books to necessitate a ladder is one of my
top ten goals in life.
Do you have an office or creative space of your own? What's it like? Post a link to photos if you've got them!