This is one of our many interviews with Real Life Style Icons – gorgeous, smart, funny women that we want to drink coffee with and then steal their shoes.

Name: Alicia (insert a long and hard to pronounce even though it sounds exactly as it's spelled last name here)
Age: One score and six. It sounds cooler that way.
Location: Los Angeles – born and bred.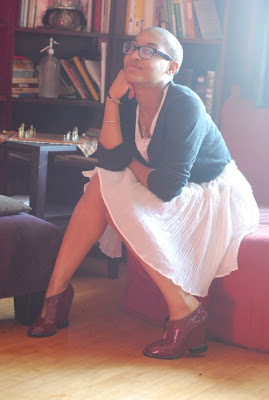 Three reasons that you're awesome:
I have a talent for figuring out how things are constructed by looking at them, I am a source for a ton of mostly useless but sometimes practical information, and despite its status as an impossible feat, I can actually lick my elbow. Really!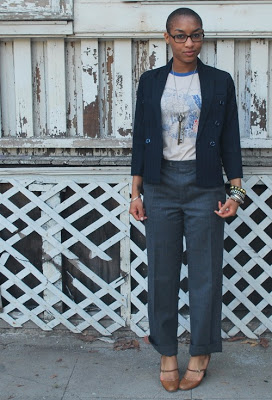 How did you dress as a kid?
I was either extremely mismatched or extremely color-coordinated with a tomboy lean. There were lots of oversized shirts, combat boots, jeans, sneakers and crazy socks. I loved wearing lots of silver rings, too. Conversely, I hated dresses with the heat of a thousand suns and wouldn't be caught dead in anything too girlie. No lace, no ruffles, no pastel unless it was demanded by the occasion.
Very little has changed since then…I mean, I'll wear dresses and like them, but it feels wrong.
When did you become interested in fashion?
Fairly recently, actually. I'd date it to around 2006. I enrolled in a fashion school two years after graduating college (mostly because I was insanely bored with my 9 to 5) and was suddenly thrust into a world where people wore more than jeans and t-shirts to school. It was shocking. Then came the classes on the history of design houses and collections and haute couture…I was blown away. I felt sort of like a fish out of water since I seemed to be the only fashion newbie there, but I really enjoyed it.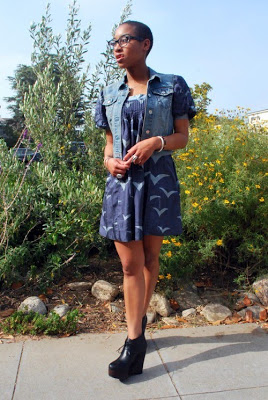 Where do you find style inspiration?
I find most of it in the many blogs I follow. I've also had some great "lightning strikes" moments when I revert to my 5-year-old self and try on things in different and strange combinations (sometimes a cardigan looks really cool worn upside down). I like to look at runway collections, too. I don't really follow fashion weeks, but I can always look to a Dries Van Noten runway show to get ideas for color and print combinations, Marni for proportion play, or Rick Owens for how to make all black everything look more interesting.
Where are your favorite places to shop? Goodwill, ebay, and other people's closets. I hate paying retail prices for clothes and malls scare the hell out of me. Because of that, nearly 60% of my closet is from thrift shopping. Ebay is a long-time love of mine for finding things that are older or a bit obscure, but still high up on the want list. Usually, I get away with some great things for little money. As for other people's closets, I'm starting to get really big on bartering with friends. It's a great (and practically free) way to experiment with new things while cleaning out your own closet. WIN-WIN!
Could you tell us your top three style tricks/DIYs?
Absolutely!
#1 – a 60″ by 60″ piece of fabric is the best thing ever. It's a scarf/hood/shawl/shirt/wrap skirt/pool coverup/super huge bow/choose your own adventure. I often reach for mine to finish off a plain outfit or to shield my head from light rain. Best part: it cost me $3. I'd recommend a textured, lightweight black fabric, but use whatever makes you happy.
#2 – cutting three holes in a 2 yard piece of fabric makes for a great wrap dress/draped vest/layering piece. I have a tutorial on my blog here.
#3 – the only thing you need to take an outfit from borderline slummy to polished is a black blazer. It doesn't have to be made of anything special, it just has to fit well. A black blazer works over everything and says "effort" even on days where you roll out of bed and throw on yesterday's jeans with the only clean t-shirt you can find…not that that's happened to me or anything like that…ok, actually it has…several times…in the past week.
Thanks so much for sharing, Alicia! Do you guys have any questions for her?