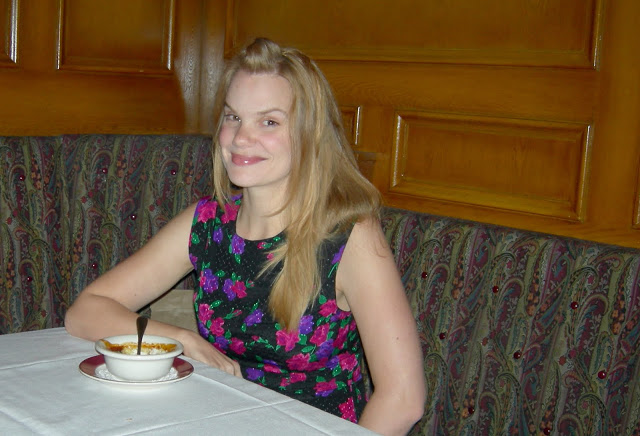 Would you believe that this 31 New Things goal nearly gave me palpitions? Yes. How silly is that? As I walked into
The Lexington
, I was literally compiling a list of solo accomplishments in my head to bouy my confidence
("Moved to New Zealand without knowing anyone to get an M.A. Crossed the border between Bolivia and Peru by myself with beginning Spanish. Navigated five different kinds of transport, on my own, to get from Greece to Italy.")
Because
The Lex
? It's a St. Paul landmark. It has chandeliers. It has patrons celebrating anniversaries and promotions. It has a red carpet outside, for the love of Pete.So obviously I chose a place like this for my solo dinner. Go big or go home, guys. See?
But you know what? All that worry was for naught. It was fantastic! Absolutely, 100% fantastic.There was a fantastic, corner booth – perfect for eavesdropping and people watching. There was an amazing caramelized shallot and mushroom torte for starters (!). There was wine. There was pasta and scallops and, yes, there may have been some fantastic creme brulee shoveled into my full-to-bursting stomach. And I enjoyed every minute of this by-myself feast.
You guys? I felt a little bit like a Bond girl! Or a sexy, mysterious movie character. (Maybe I was casing the joint?) I felt like I was the grown up that I had always wanted to be – wearing a great dress, sitting in a gorgeous restaurant, eating amazing food.
If you're keen to try eating in a swanky place by all by your cute self, here are my pointers for making it as awesome as humanly possible.
* Go on a week night – fewer couples and loud parties
* Wear something that you love and that makes you feel confident (it matters! trust me.)
* Try to sit in a booth, on the edge of the room (makes for better people watching)
* Go some place really nice – it'll feel more like a special treat to yourself and less like a challenge to be endured
* Resist the urge to sit at the bar, bring a book or text on your phone. Get a glass of wine and relax!
Have you ever eaten at a really nice restaurant by yourself? Would you?
The Lexington was nice enough to comp my meal but that doesn't change that fact that their food is fantastic, their waitstaff is lovely and the lighting is daaaang flattering