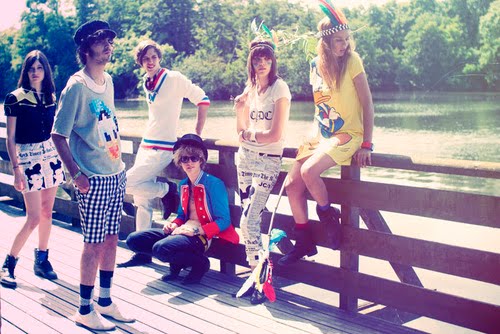 A friend and I were recently discussing our taste in men when she announced that she knew someone I might like – M.A. from
Pratt
, mutton-chops, forearm tattoo, has a noun for a middle name, wears skinny jeans. A real hipster, she said. Just the kind of guy that I would like, she said. Because I was such a hipster, she said. What followed was one of those double-take, blinkblinkblink responses you have when someone tells you something about yourself that you are totally, 100% unaware of.Am I a hipster? Let's examine the (circumstantial) evidence:
1) I have a liberal arts degree
2) I wear skinny-ish jeans
3) I know who
Yeasayer
,
Phoenix
,
Animal Collective
are.
4) I own religious paraphernalia though I am not religious
5) I know people who are in bands/play ultimate frisbee/are earning PhDs
6) I thrift. Compulsively.
7) I have dated men that weighed (almost) the same as me
8) I have a blog
9) I deny being a hipster
Am I a hipster? Does it matter if I am? Why was I so shocked and appalled when she told me that I was?
The internet is thick with hipster hate these days. Witness the blog unhappy hipsters. Or hipster puppies. Why is it so much fun – and so socially acceptable – to hate on this particular group of people?
Because I like to believe I don't know any hipsters (or anybody that will admit to being a hipster) I had to consult everybody's favorite reference, Urban Dictionary. There are multiple entries for 'hipster' but many entries tie into the belief that hipsters are "cooler than you," overly ironic and live off their parents' money because they can't find a job with their useless arts degree.
So let's just say, for the sake of argument, that all of the above are true and that hipsters are condescending, lazy and refuse to approach anything in life with sincerity. That certainly paints an unappealing picture.
Does that make it okay for us to hate on them? And why exactly are we hating on them? Because they hated on us first for liking Ke$ha? Because they think going to the state fair is 'ironic' and we really, genuinely love it? Because they've got heaps of disposable income from crashing with the 'rents while we're just scraping by?
And when does it become socially acceptable to mock a group of people? When you are of the same race and socio economic group as them? When they've made active choices to pursue a specific lifestyle – rather than being forced into a lifestyle by poverty, etc? When this group has been given all the advantages of North American life and somehow seemed to screw it up?
I'd love to hear what you think! Is 'hipster' a dirty word? How do you feel about them? What do you think are the qualities of a hipster?