In a little over a month I'll be disassembling my adorable apartment, passing along my furniture to my students and packing everything else into my car. But before I begin the process of getting rid of my worldly possessions, I thought my little flat deserved a bit of a photo shoot.Even though I left home at 18, this is the first apartment that has been 100% my own – not shared with roommates or a boyfriend or partially furnished when I moved in. I found this apartment. I chose the paint color. I picked out every last thing that's inside these walls. It's a lovely feeling to have a space that is so unequivocally mine.
You've probably seen a few of these pictures before on Yes and Yes. Any particularly well-composed, well-lit photos were taken by my very talented friend Sam Rapson.
Also! 98% of what you see here is second hand. And with the exception of electronics, nothing cost more than $150!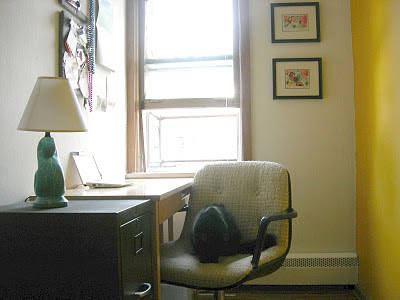 My tiny, tiny office
Desk: Salvation Army
Chair: Salvation Army
File cabinet: spray painted with 'hammered steel effex' paint, Salavation Army
Lamp: small town thrift store in Wisconsin
Dress dummy: second hand display store
Dress: Salvation Army (I actually go to this particular Salvation Army so frequently, the cashier put aside this dress for me because she knew I'd like it!)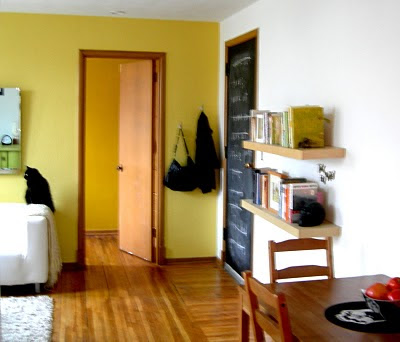 My 'entry/dining room'
I painted my front door with chalkboard paint – all the better for list making!
Table: Ikea, via Craigslist
Awesome beaded skull placemat: Target Halloween section
Floating shelves: Ikea, via Craigslist
Takk For Maten plaque: Grandma. (It's means 'Thank you for the meal' in Norwegian)
Skull: Salvation Army, painted it black with left over chalkboard paint


Fake orchid: Goodwill
Stereo: Target
Frames: Salvation Army and Dollar Tree
Prints: The Internet
My tiny, tiny living room
Oh, but it's wee! Just enough space for a tiny love seat, this crazy banquet and an area rug.
Love seat: Ikea, via Craigslist
Banquet: Salvation Army (for $12!!!) spray painted lime green
Head: Ikea
Clock: Unique Thrift (when you push the button on top, it says the time! (incorrectly))
Light: Ikea
My tiny, tiny kitchen
This is the only photo you get. Because this is pretty much all there is to it – two square feet of counter and a doll-sized stove.
Cow salt-n-pepper shaker: gift
Secret special stove-sized cutting board: Ikea (if you also have a tiny kitchen, I cannot recommend these cutting boards highly enough! No lie, they will revolutionize your life)
Again with the tiny. I made up for the total lack of storage space by mounting this shelf and storing my beauty bobbles in this decorative box.
Shelf: Salvation Army
Box: Ikea
Bottle: Salvation Army
Tiny voodoo bottles and statue: Brazil
Shower curtain: Target.com
My awesome, awesome lady closet
Do you remember
what it looked like before
? This closet was a major selling point on this apartment. I am not exagerating when I say that I've been wanting a closet like this since I was 11.
Storage bins: Salvation Army, painted with left over chalk board paint
Funny bottle: Asian grocery story
This is what it looked like after I re-did it! (P.S. I style the sweet bejesus out of this photo. I don't really wear exclusively black, white and turqouise clothing. But it sure looks nice, doesn't it?)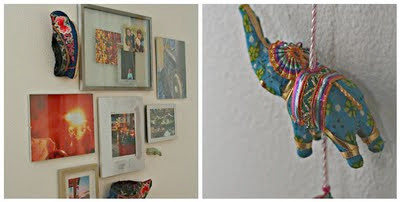 My bedroom
I love having a corner apartment. It's so lovely and bright! Even if my view is only of the neighbor's back yard and the alley.
Frames: Salvation Army
Photos: my friends and me!
Funny shoes: antique store in Taiwan
Elephant chain: Taiwan
Curtains: Ikea
White bedspread: Target
Embroidered blanket: Sapa, Vietnam
Thanks so much for touring my place! Have you ever had an apartment (or house) that's 100% your own? How do you like it?