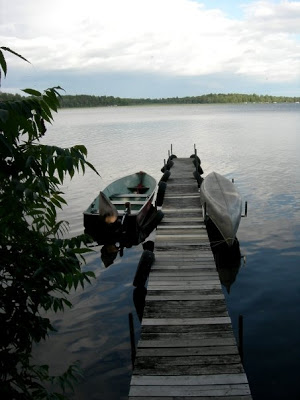 The dock that I grew up on
This is our exercise in Sunday self-absorbtion, in which we make lists about ourselves. It's really fun! Lists frequently inspired by this awesome book.Since I left home at 18, I've lived in approximately a million different places.
1. Mom and Dad's house
Brown, ranch style house on a lake in rural Minnesota. High ceilings, giant yard, wood-paneled basement.
2. Blakely dorms on U of M, Morris campus
High ceilings, inflatable furniture, lofted beds (of course)
3. On-campus apartments, U of M, Morris
Tiny, tiny, tiny. Cinderblock walls and seven-tiles worth of kitchen
4. Cardinal Estate apartments, Morris, MN
Wallpapered bathroom, walk-in closet, balcony overlooking the parking lot
5. Blue house, Morris, MN
Claw-footed bathtub, pantry, neighbor who parked his truck in his yard
6. Prospect Park apt, Minneapolis, MN
Landlord announced "I don't care if you dooooo drugs, just don't sellll drugs."
7. Yellow house, Morris, MN
Landlord removed shingles to fix the roof – and never put them back on
8. Rainbow apartments, 11th floor, Chung Li, Taiwan
Pink kitchen, Japanese bedroom, mood lighting
9. Loft, Chung Li, Taiwan
Actually a tiny house built on top of a 10-story building, overlooking the train station and across the street from several brothels
10. Rainbow apartments, 19th floor, Chung Li, Taiwan
High enough up that we could see all the way through the smog to…more city
11. Above The Mill, Wellington, New Zealand
Living above a liquor store is pretty much exactly like what you imagine it would be like
12. Prince Street, Wellington, New Zealand
Perhaps the best house I've ever lived in – on a mountain, overlooking the bay, five minutes from Courtney Place, living with some of my favorite people.
13. Loring Park, Minneapolis, MN
'Garden' apartment with a bathroom that was (quite literally) bigger than the kitchen. Pipes hanging from the ceiling.
14. Duplex, Bryn Mar, Minneapolis, MN
Cedar-lined sun porch, dining room, kitchen window that looked into our neighbor's bedroom
15. Cathedral Hill, St. Paul, MN
Sunny, tiny apartment with an awesome lady closet, useless landlord.
Now you!