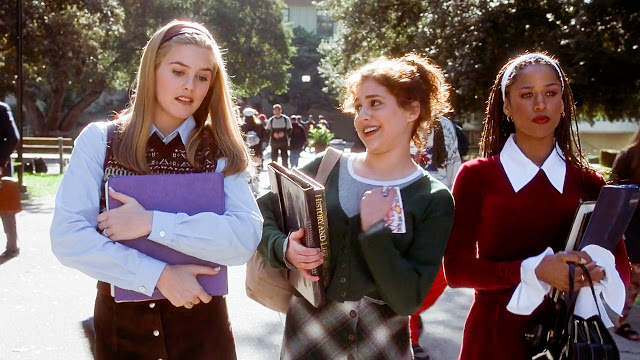 This is our Sunday exercise in self-absorption, in which we navel gaze and make lists about ourselves. Join the fun!
1) Fifth grade
Slap bracelets
and other assorted layering – two different colors of scrunchy socks, double tongued L.A. Gears (!) and, if memory serves, two different turtle necks. How did I even move with all those layers of cotton?2) Seventh grade
Choker necklaces, my dad's flannel shirts and leggings. Obviously. I didn't have
Doc Marten's
so I just wore some significantly less cool Eastlands.
3) Ninth grade
I become obsessed with suspenders. 'Nuff said.
4) Tenth grade
I devotedly wish that I was a raver. To that end, I sew my own backpack out of purple fun fur (!) and a pair of overalls out of red fleece. I wear said overalls with a rainbow sweater and piles of plastic jewelry. The BFF will never let me forget this.
5) Eleventh grade
I decide that I have "a curly haired personality" and start getting really tight perms. I have incredibly thick hair so the result is nigh-on afro-ish. I also wear red lipstick all.the.time.
6) Twelfth grade
My everyday uniform consists of pajama pants (sometimes satin), Uggs, seventies men's dress shirts, my dad's sweaters that I've cut off to crop top length. Despite this look, I am dating a golden boy.
7) Freshman year of college
Inexplicably, I wear bandannas constantly. Tightly, like a biker.
What about you?