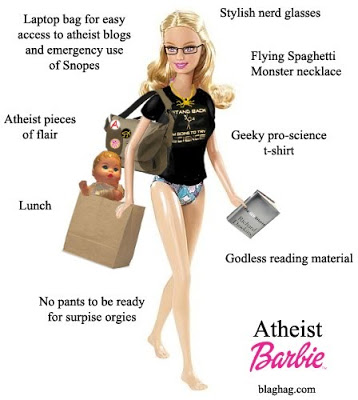 This is one of many True Story interviews, in which we talk to people who have experienced interesting/challenging/amazing things. This is the story of Millie and her relationship with Atheism.
Tell us a bit about yourself!
I'm Millie, I'm in my late twenties, and I grew up in a fairly boring stretch of suburban Southern Ontario. I'm a PhD grad student in the physical sciences at a Canadian university, and I'm cautious about putting identifying details about myself on the internet.For those of us who don't know, can you tell us what being an Atheist means?
Atheism is the lack of belief in God, in whatever way you formulate an external deity. It's not a belief in an anti-God, and it's not mutually exclusive with being a spiritual person in some way. Atheists are not by a priori immoral, angry, unhappy, or selfish, though for some reason some people seem to think so.How is being an Atheist different from being Agnostic?
While an atheist does not believe in God, an agnostic is uncertain whether or not God exists. The way it's usually framed, atheism and agnosticism are mutually exclusive — atheism is definite and absolute, while agnosticism is sort of wishy-washy. I'm not keen on this interpretation, because while I've been an atheist for some time now, I quite readily admit that I could be entirely wrong about it. A few weeks ago, I read a comment on a blog post that said that atheism answers a question about (lack of) faith, while agnosticism poses a question about knowledge, and since faith and knowledge are not the same thing, the two are not mutually exclusive. This was a real lightbulb moment for me.
What are the biggest misconceptions surrounding Atheism?
I think the biggest misconception is that atheists are by definition amoral, selfish people because they lack a religious moral code. This is just not true; of course some atheists are amoral and selfish, but there are amoral and selfish people in any group of humans, including those who identify as religious of any stripe. I don't follow a moral code written in a specific holy book, but I have a strong secular ethic that I adhere to as best I can. My moral code centers around empathy, compassion and co-operation, which are all values that transcend specific religions. I try to work to make the world a better place for all of us to live in, and I do that because I think that's simply the right thing to do. Respect, understanding and compassion are universal goals, and no one faith group can claim them solely as their own.
Can you tell us about your relationship with faith growing up?
The short answer is I didn't have one. My parents raised me without organized religion; the only time I ever went to a church was for funerals or music lessons. While my Mom said in later years that she wished they had raised me with a religion, I'm glad they didn't, because it allowed me to start from a clean slate when I started thinking about religion on my own. I didn't have to step away from anything to reach my own conclusion about faith and God, and I think that made the process considerably easier than it is for some people, for whom questioning their faith can mean a rejection of their community (or their community rejecting them).
How old were you when you began to question the concept of a higher power?
I never really formulated any concept of an external God growing up, none was introduced by my parents, and any that I was exposed to otherwise didn't stick. The main exposure to religion I had at the time was from my grandmother, and her religiousness was so cloying yet empty that I was totally uninterested. I never really questioned the concept of a higher power because I never believed in one in the first place, since it just didn't make sense to me.
How did the people in your life react when you told them that you didn't believe in God?
Most of them are unsurprised and unfazed, though I suspect that's more a testament to the tolerance and acceptance of people that I associate with than evidence that atheism is well understand and accepted by everyone. I don't go around advertising my lack of faith, because while it's a part of who I am, it's not the most important part or the part that most clearly defines me. That said, if someone asks, I'm quite open about it.
Many people turn to faith during challenging times in their lives – if they lose their job or go through a divorce or lose a loved one. What do you do in those situations?
I have a wonderful support circle of friends and family, and I rely on them when things get rough. Dealing with death (or other challenges) without faith cuts both ways: I don't have the comfort of the concept of Heaven (or believing that God will see me through), but I don't have to contend with the death of my loved one (or the challenge) being a result of that same God. Death is due to sickness or accident or whatever it was, rather than a higher being saying "it's time" and leaving me to deal with the aftermath.
Do you actively debate religion with others? How do you feel about people who are religious?
I have absolutely no beef with people who are religious. Quite a few of my friends are religious to varying degrees and faiths, and they're all lovely people who I'm very fortunate to have in my life. Tolerance works both ways: I don't like having someone's personal religion being forced on me, and I have no business forcing my lack of faith on someone else. I like talking about faith or lack of it, but I'm avoid debating with people I don't know well, because it so often devolves quickly into mudslinging. I'm frustrated that both sides of the public discussion trade mostly in mud, with a heaping dose of arrogance and the occasional personal attack. It gives a bad face to atheism as a whole, and misrepresents much of the (unorganized) community.
Do you ever wish that you believed in God?
No, not at all. I see how important religion is to some people, but I find the world much easier to make sense of without having to account for an external being tweaking and planning and running the world. It's easier for me to take the world at face value and deal with what's laid out in front of me, rather than trying to account for something so integral to a world-view as God but which I can never fully understand.
What advice would you give to someone who's questioning their faith?
I think trying to remove as much bias as possible from your thinking is really important. Being able to step back and look at your faith, others' faiths, and a lack of faith in the clearest, most objective light you can is helpful for trying to determine what resonates with you personally. Don't assume that atheists are all selfish, or that a faith of some stripe has all the answers. Ask lots of questions in good faith (ha!) and keep an open mind to what you're hearing. But keep in mind that atheists are individuals, and just because you agree or disagree with one atheist doesn't mean that atheism is or isn't for you. Take your time and go with what truly resonates with you, regardless of what other people think about it.
Are any of you Atheist? Any questions for Millie?