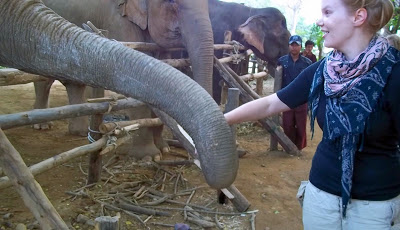 Some of the best parts about traveling the world? Doing awesome things like touching elephants.
This is me, looking amazed the first time I fed an elephant.
In case you were wondering, baby elephants rolling around in mud are exactly as cute as you'd expect them to be.And feeding elephants? Awesome.
And being kissed by one?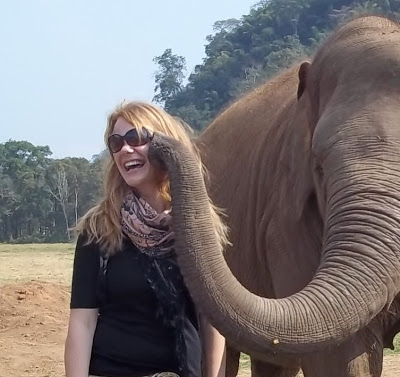 Slightly wet, a little bit sticky, a lot fantastic.
And I can tell you all of these things because I spent one phenomenal day at The Elephant Nature Park outside of Chiang Mai.
The Elephant Nature Park is totally, totally magical. The park provides a safe haven for elephants that have been rescued from horrible situations. There is the elephant that was hit by a car when she was working with her handler on the streets of Chiang Mai; the elephant that stepped on a landmine along the border; the elephant that broke her leg while working in the logging industry; the elephant that was blinded by abusive handlers when she wouldn't work because her baby died. But now they live here!
And they get to eat delicious fruit! And they each get their own basket!
As you probably know, elephants are incredibly intelligent, sensitive, social animals. It was amazing (and super cute) to hear our guide talk about each elephant's personality and how different social groups formed among the 35 rescued animals. 'Jungle Boy' was "very smart and handsome and ready to look for a girlfriend." Hilariously, there was even an elephant love triangle – Jungle Boy was totally into the lady elephant that had been hit by a car, but she wasn't having it and would head down to the river whenever he came around. But her BFF? Totally into Jungle Boy! Drama, drama.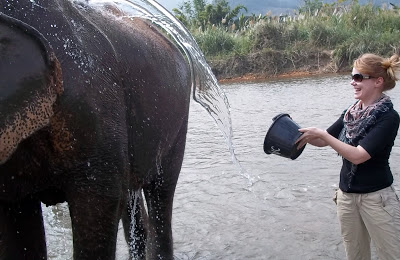 In addition to rescuing injured or abused elephants, The Elephant Nature Park works to restore surrounding rain forest areas and provides employment to Burmese refugees (who are trained to work one-on-one with the elephants). And! You can volunteer with them! If you do, will you email me pictures so I can weep with envy? Have you ever touched an elephant? Or any other super cool animals? I touched a wallaby and a koala while doing ubiquitous Australian tourist stuff. Last week I saw (but didn't touch) a pet civet that drank coca-cola!
Got the travelbug?  Check out my ebooks and podcasts on making long-term travel a reality!  Only $15 forpetessake!