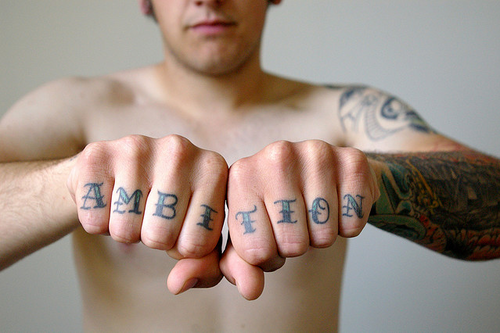 This is a guest post from the always awesome Kate of Eat The Damn Cake.  She writes about life, cutting her long hair down to a boycut with a paper scissors and all sorts of other good things.  Pop over and have a look around!
So while I was reading one of those women's magazines (occasionally I walk by the stack on the couch and get hypnotized by the hot pink bubble letters in the headline and start thinking, "What IS he really thinking about sex every time he sees my hair?"), I stumbled upon an article about women and ambition. Women, said the article, don't like to admit that they're ambitious. In fact, the only woman who has ever been known by the editorial staff at this particular magazine to refer to herself as ambitious is Catherine Zeta-Jones. The rest of us just blush and look down modestly when we receive our Olympic gold medals. We say afterward, to the hordes of hungry reporters, "Oh, gosh…I don't know. I guess I was lucky?"Of course, I immediately thought, "Yet another way in which Catherine Zeta-Jones and I are soul sisters." No, not really. But I did think that I don't know very many women who aren't ambitious. And it seems to me that they are willing to admit it.
I am ambitious. It drives me crazy. I don't want to be. I want to be completely content with a delicious sandwich, a decent job,  and a good TV show. Or several delicious sandwiches, a reasonably decent job,  and a few mediocre TV shows. Life would be  a lot easier. I want to be OK with leading a quiet life, surrounded by family, like my fantastic 90-year-old grandmother.
But I'm ambitious. I don't need to be a celebrity or a world-famous something or other. I have no interest in the paparazzi and I'm incredibly unphotogenic anyway. I don't feel any need to make a million dollars. But I want to be recognized for what I do. I want people to think that I'm awesome. I want to be perceived as successful. I want to push myself to be better at the things I'm good at. To be better at the things I'm bad at. To be better.
I feel awkward writing it, so maybe there was something to that article in the magazine. Maybe it is awkward to say that you want those things. Maybe it's especially awkward, somehow, as a woman. I get the sense that I'm supposed to say, "I'm just so thankful for everything I have, all the time. I couldn't imagine having anything more!" I should say, "If I ended up with two or three happy and healthy kids and nothing else, that would be completely fine. That would be perfect." I should say, "Family is the most important thing in my life, at all times." Or "If I never impress another person, that's completely OK, because I am content just being who I am."
Sometimes I'm walking home with two unfairly heavy bags of groceries and I catch myself thinking about how much I want to succeed. It's kind of vague. Sometimes I'm imagining getting a book deal. I know a book deal doesn't actually mean success in the way that a lot of people define it. Plenty of writers get published only to discover that approximately ten people are even remotely interested in reading their book. I imagine myself founding a company that does something cool and productive that everyone needs. I have no idea what. What I do know is that it's important to me to be able to someday look back at my life and point out to myself the things I did that made an impact. And by impact, I mean "affected a lot of people in an obvious and positive way."
It can be embarrassing to admit to wanting something conventional. To admit to wanting something stereotypical. To think things that sound arrogant. I hear myself thinking, "I have a lot to say, and it's worth something. I want everyone to have access to it. I want to be important."
And then I quickly think, "What makes you think you deserve to be important? You aren't that special."
And then I think that I don't care if I'm not incredibly special, I still have points that should be heard. I feel deserving. I feel ready.
When I talk to my young women friends, a lot of them want to be heard, too. They want to be important. They want to be conventionally successful in one way or another. They want to change things, to improve things. They don't say, "I want to be famous." They say that they have big goals.
We're not supposed to want to be important. It sounds selfish. I know, because I'm uncomfortable writing about it. I assume that whoever reads this will think that I am too self-involved to be tolerated. Penelope Trunk told me to write about things that make me uncomfortable. Because that's when I'll know I really care about what I'm writing. And chances are, if it makes me uncomfortable, it will be something worth talking about.
So here I am. Me and Catherine Zeta-Jones. And a bunch of other women, really. Who feel kind of unfulfilled. Who feel moved to do something bigger. Who feel like we are capable of doing something bigger. Who are always thinking of another project. Who would be OK with being famous, if that happened. Who sometimes really, really want to be famous (as long as there aren't too many cameras). Who are always sort of waiting for something to happen. Something spectacular. Who want to be heard by a lot of people. Who think they have something to say that's worth hearing. Who believe they are deserving. Who want to make the world a little better. Who want to be remembered. Who are ambitious.
Do you consider yourself ambitious?  What are your ambitions?  I'm as ambitious as all get out.  Sometimes I wish I could turn it off!